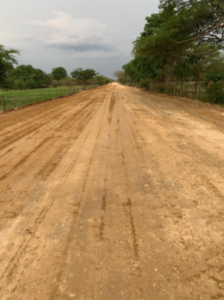 Drummond Ltd. delivered the 27 recovered kilometers of the Casacara-Platanal road to communities in Cesar. The high-impact project, in which it invested $1,400,000,000 pesos, will benefit local people and visitors to the region.
The project, with the participation of contractors from Cesar – Ingenieria y Servicios HG and Grupo La Jagua S.A.S. – was done in response to a request from the mayor of Agustin Codazzi, Omar Benjumea Ospino, who asked for support from the company to rehabilitate the road.
"We are grateful to Drummond because they heard the call of the people in this region, who had never before received such strong support for fixing its roads. Thank you for your commitment to the communities," expressed Omar Benjumea, mayor of Agustin Codazzi.
"On behalf of everyone in the Vegoña, Platanal, and Casacara districts, we would like to express our satisfaction with this road that was previously in bad shape, making circulation very complicated. Now it only takes half an hour to make the trip. As a community we are very grateful to Drummond," stated Edinson Calvo, community leader in Casacara.