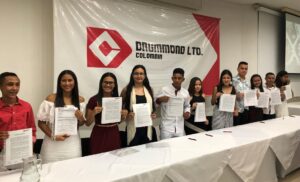 13 people from Drummond's communities in Cesar and Magdalena were recognized for their academic excellence and are now beneficiaries of Drummond Ltd.'s Scholarship Program for the La Loma and El Descanso Projects.
As a demonstration of its commitment to education in the country, each year Drummond gives a scholarship to the top high school students from public schools in the municipalities in its area of influence. The scholarship covers the entire cost of their undergraduate studies, and includes a monthly stipend for living expenses, which is currently at $1,024,000 pesos.
The award ceremonies held in Magdalena on Thursday, January 31 and in Cesar on Friday, February 1 were presided over by Jose Miguel Linares, Drummond's President. Also present at the gathering were Drummond Ltd. managers, mayors from the municipalities of influence, civilian, church, social, and military authorities, previous scholarship winners, the new scholarship winners and their families, and representatives of the schools.