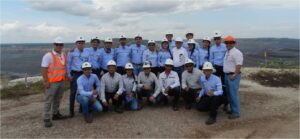 Drummond Ltd. hosted a visit from Mining Engineering students from Universidad Pedagogica y Tecnologica de Colombia (UPTC) to the Pribbenow Mine.
The future engineers had an opportunity to learn about how the mining operation works, reinforcing what they've learned in the classroom.
Before beginning the tour that led them up to the lookout, the students heard a talk by Rafael Garcia, Community Relations Coordinator at Drummond Ltd., who spotlighted the company's Corporate Social Responsibility activities and policies.
David Rodriguez, Senior Mining Planning Engineer, also gave them information about the mine relative to planning and methods for open pit coal extraction and production.
In addition, Cindy Mejia from the Environmental Department explained the company's management plan, including topics such as air quality control, water management, wildlife conservation, and reforestation and revegetation projects to mitigate the environmental impact from the mining activities.