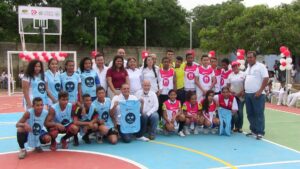 On August 14, the Mayor of Cienaga, Drummond Ltd., and the Agency for Reincorporation and Normalization (ARN for the Spanish, formerly the ACR), will launch the "Learning Values through Sports" project on the El Carmen School multipurpose court in Cienaga, starting at 9:00 a.m.
Principles such as equality, non-violence, freedom of expression, active participation, non-discrimination, self-care, taking care of others, and taking care of the environment are some of the key values to be learned in this community intervention organized by Drummond Ltd., the ARN and the Mayor of Cienaga to reach 540 students at five schools in the municipality.
A tournament called "Golombiao, the game of peace," will be played on courts built by former combatants who are in the process of reintegration, complemented by classroom activities. The objective is to help teens and children appropriate values and principles that will help them live together in peace.
"Golombiao is the methodology the ARN has appropriated in its work to prevent recruitment. It uses futsal to strengthen the skills of children, teens, young adults and their communities, helping them develop life projects that will ensure their development and keep them from turning toward violence. The game promotes participation, getting along together, the peaceful resolution of conflicts, and gender equality," explained Jose Nicolas Wild, Coordinator of ARN Magdalena.