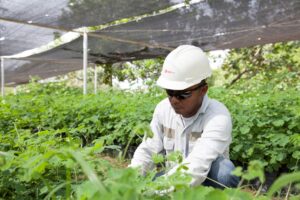 Drummond has built its own forest nursery to help protect plant life inside and outside of its areas of impact. The nursery currently has 352,000 trees available, encompassing 77 different species, with production last year of more than 587,000 seedlings.
The nursery cultivates the seeds of plants and trees that are used in reforestation programs. The seeds are obtained directly from native trees or from specialized suppliers, and are stored in properly labeled containers in a cold room especially built for that purpose. The nursery then begins the process of germinating, transplanting, and definitive planting. Its special focus is on species such as rain trees, mango, savanna oak, guava, ceiba and uvito.
"The company is constantly working to make improvements in the areas surrounding the mining operation, organizing events to plant trees and for environmental education. Recent events are part of the 'Sowing for Peace' effort, a part of the project called 'Protective Surroundings for a Peace-keeping Generation,' which we are leading together with the Agency for Reincorporation and Normalization (ARN)," explained Amilcar Valencia, Manager of Drummond's Environmental Department.