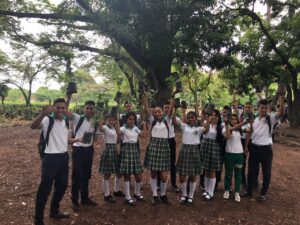 As part of its environmental actions in its area of influence, Drummond Ltd. continues to reforest the municipalities, towns, villages, and schools of Cesar. On this occasion, it donated 1,000 trees to the municipality of Agustin Codazzi.
The Antonio Galo Lafaurie Celedon Agricultural School was given 300 lumber and fruit trees. The remaining trees will be distributed among different villages and schools in the municipality.
"Giving trees to communities in the area of influence is the responsibility of the Program for Strengthening Neighboring Communities and Developing Towns, which focuses on schools, presidents of community action boards, and local administrations. Its goal is to encourage them to develop reforestation projects in urban and rural areas, in order to help fight global warming, improve the climate, and re-forest," stated Yilda Pineda, Coordinator of the Community Relations Department at Drummond Ltd.