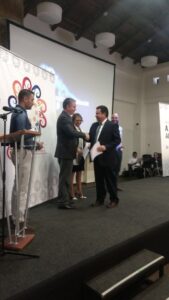 The Agency for Reincorporation and Normalization (ARN in Spanish), the institution in charge of promoting the return to legality of demobilized former combatants, drew special attention to Drummond in the category "Arenas for Reconciliation" for its contribution to peace-building in the country.
The event "Awards for Allies 2017," held in Medellin on December 5, 2017, highlighted the work of all the organizations that have been part of the different fronts of the process to build peaceful coexistence in Colombia.
Starting in 2013 and until September 2017, according to the report published by the ARN, 28,108 former combatants have participated in community actions through social service in 50% of the municipalities involved in the project. Seventy-six percent of those participants have not returned to illegal activities, and 90% believe that their quality of life has improved significantly.
These figures show the impact this initiative has had on the transformation of the lives of former combatants, and on the communities that have benefited from the social projects in which demobilized persons have participated.