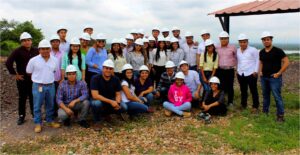 Thirty-five students from the Universidad de la Costa's engineering faculty visited the installations of the Pribbenow Mine, with the purpose of learning about our operations.
The students began their visit with talks led by the different representatives of the Engineering, Environmental, and Community Relations areas, with the purpose of explaining to the students everything about Drummond Ltd.'s operational and social aspects. The questions that arose from the talks were mainly related to environmental management, backfilling processes, and the programs established by the company with the people and the communities belonging to the area of influence.
After the talks, the students had the opportunity to visit the lookout point by ramp 7, where they were able to observe the mining and truck operations in that area. They also had the chance to understand the important role played by the El Paujil Dam, in all of the tasks developed within the La Loma project.