Drummond awards 11 scholarships to young people from Magdalena and Cesar
February 5, 2015
"I really had no way to keep studying. My father works doing odd jobs on a farm, and this scholarship that Drummond is giving me is the gateway to a better future for me, my family and my community," Pedro Echeverría Torres, scholarship recipient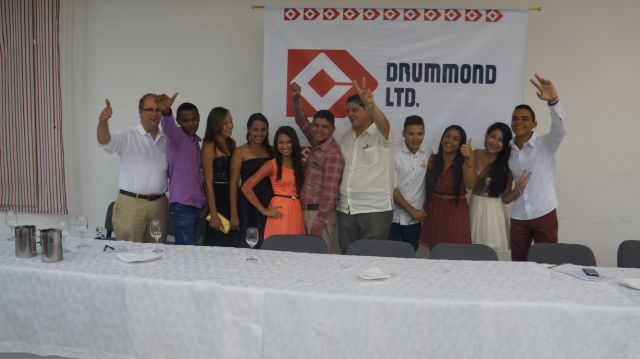 Showing pride and satisfaction, the 11 scholarship recipients from Cesar and Magdalena, along with their families, formally received their scholarship award certificates from the Company as a guarantee that their dreams of becoming professionals have begun.
At an emotional reception held at the Estelar Santamar Hotel on January 29, Esneider Bravo Benítez and Diego Armando Silva, residents of the districts of Orihueca and Rio Frío in the municipality of Zona Bananera – Magdalena, officially received from Alfredo Araújo, Manager of the Community Relations Department, the certificates that made them new Drummond scholarship holders.
Nine more scholarships were awarded in Cesar during a ceremony that took place at the Sicarare Hotel on Friday, January 30, benefitting high school graduates Yarlidys Fernández Díaz and Pedro Manuel Echevarría from the districts of Casacará and Llerasca, in the municipality of Codazzi; Juan David Rivera from La Jagua de Ibirico, Natalia Pérez from Rincón Hondo, district of Chiriguaná; Sandry Borges Meriño from Bosconia; María Alejandra De la Cruz Mercado and Liliana Paola Martínez Cadena from La Loma, district of El Paso; as well as Luis Alfredo Rojano Arrieta and Devanys Morales, who are also residents of that municipality, all of whom earned this sponsorship.
Thanks to the Scholarship Program: La Loma and El Descanso Projects that the company has been leading since 2006 through its social management program, more than 70 outstanding low-income recent high school graduates have had the opportunity to pursue higher education. Like the previous beneficiaries, the new students will receive the full cost of tuition for the duration of their careers, plus a stipend.
"I am also a beneficiary of these scholarships and I must say that I am extremely grateful for that, since I've been able to study something that I'm passionate about and that otherwise would have been very difficult to achieve. Right now, I'm a few months away from finishing my degree in Electronics Engineering. It has been hard to get to this point, but I don't regret accepting the challenge," said Pedro Altahona, from Magdalena, encouraging the new scholarship recipients to take advantage of this great opportunity.
For Drummond, it is rewarding to see that as a result of its Scholarship Program, through which it seeks to strengthen comprehensive education, young people from the towns near its operations can become professionals and contribute to the development of their communities.