Drummond celebrated academic excellence, awarding 20 university scholarships
Cienaga, February 18, 2020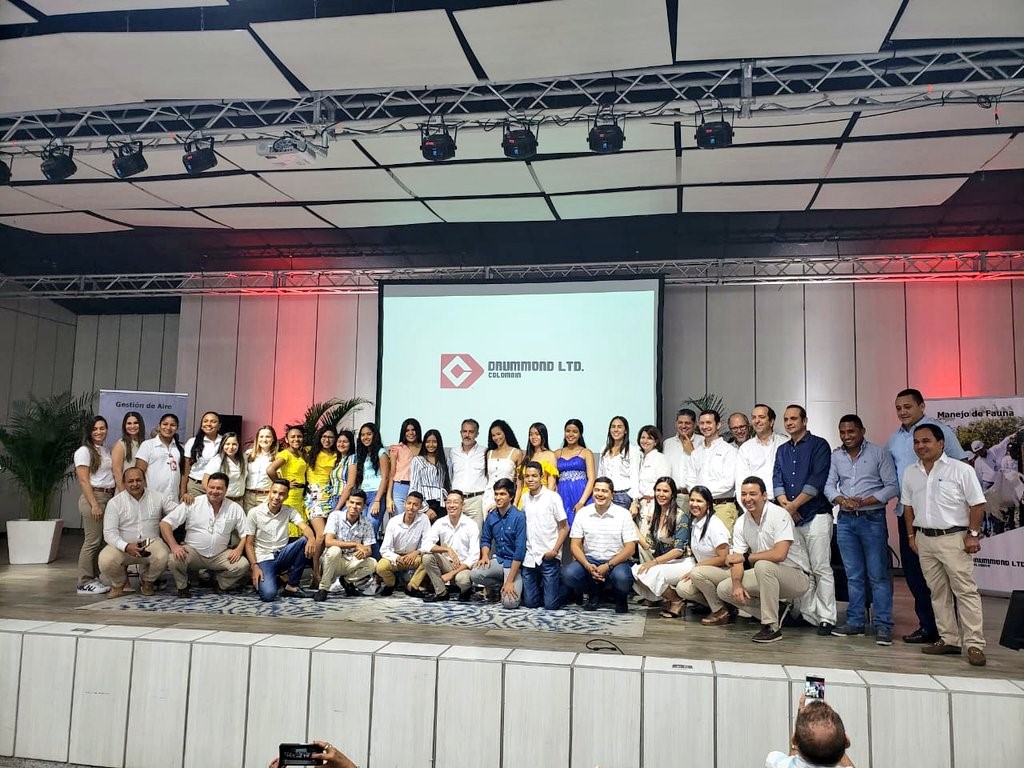 As a contribution to educating the next generation, as part of the Drummond Ltd. Scholarship Program, ceremonies were held to award the 20 university scholarships from the La Loma and El Descanso projects, a program that has benefitted young graduates of public high schools in the mining area of influence in Cesar and Magdalena for 15 years.
In its fifteenth year, the scholarships that the Company granted generate economic, social and development value in the areas where it operates. The new scholarship recipients are supported with full payment of their university studies plus the disbursement of a living stipend to support them while they pursue their professional degrees.
"For the next generation, economic growth and wealth are not enough. Today we look at how they contribute to greater equality, to reducing the gap between people with higher and lower incomes. We have been working on programs to reduce these gaps and generate well-being for the communities as a whole," said José Miguel Linares, President of Drummond Ltd.
Education, a pillar of sustainable development
Before the names of the scholarship recipients were announced, panels were held on "Education, a pillar of sustainable development," during which the perspectives of different beneficiaries were shared by department: a dean of a public school and university, an active scholarship recipient, a former scholarship recipient, a parent of one of the recipients and the coordinator of Drummond Ltd.'s scholarship program, in addition to the support of the moderators.
"Drummond turned my life around 180 degrees. What had been a dream for me, the company turned it into a goal," said Esneider Bravo, a former Drummond scholarship recipient and participant on the panel.
The event was attended by civil, military and religious leaders, the mayors of the different municipalities, communities, participants in the scholarship program, in addition to the President of Drummond Ltd. Colombia and company employees. The new scholarship recipients from the Cesar Department are: Carlos Daniel Avendaño Viancha, Salomón Botero Arzuaga from La Jagua de Ibirico; Saray Mishell Durán Sierra and Lendeivis Navarro Alfaro from Bosconia; José Fabián Acuña Chamorro from El Paso; Miguel Ángel Rubio Pérez from Chiriguaná; Yenifer Passo Pérez and Dayana Rodríguez Gil from Becerril; Michell Dayana Tarazona Sánchez and Ana Elena Arias Torres from El Copey; Adrián David Cogollo Sáez, Mariana Isabel Castañeda Molina, Wendy Rosa Mejía Cantillo, Leidy María Cuellar Castro and María Fernanda Oquendo from Agustín Codazzi.
From the Magdalena Department, scholarships were awarded to: Valeria Camila Ortega and Isaías de Jesús Pacheco Camargo from Cienaga, María Alejandra Contreras Redondo and Eliceo de Jesús Aparicio de La Hoz from the municipality of Zona Bananera and José David Guerra Osorio from Aracataca, who attended with their invited guests.
In addition, one of the new scholarship recipients, Isaías De Jesús Pacheco, expressed his gratitude and happiness at being able to share this award, alongside his parents, that will begin his professional life. "Today I would like to thank Drummond for opening the doors to higher education and for allowing me to fulfill my dreams."