Drummond Delivers the "La Orquidea" Childhood Development Center" to the Community in the Village of Arenas Blancas
La Loma, April 17, 2018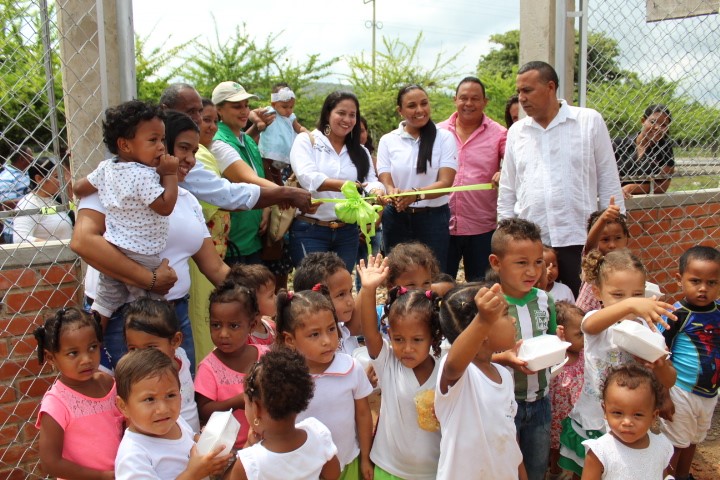 Drummond Ltd. delivered the "La Orquidea" Childhood Development Center to the village of Arenas Blancas, jurisdiction of the municipality of Chiriguana. This center will help strengthen the community, serving more than 70 children in early childhood, who will to benefit from the new building and its programs during their learning and development stage.
The center's infrastructure was designed according to the guidelines of the Instituto Colombiano de Bienestar Familiar (ICBF) for the "From zero to always" program, through which 3 classrooms, two bathrooms, one kitchen, and one dining room are being built, as well as providing supplies that include tables, children's chairs, air conditioning, vents, LED lamps, and industrial equipment for food processing.
Present at the event were Chiriguana's Mayor, the IBCF, parents, community leaders, and teachers, who expressed their appreciation for Drummond. Mayor Zunilda Tolosa Perez took the opportunity to highlight the importance of focusing the efforts on the children: "This is a social service that is going to benefit our children and future generations. We are thankful to Drummond Ltd. for the support and collaboration."
This project is a crucial advance for the population of Arenas Blancas, given that they did not have the necessary infrastructure to develop educational and recreational activities for children between the ages of 0 and 5. Assistants to the event highlighted Drummond's support on all educational processes executed in the region.
"This is a project of very large relevance for our community. The children will be the first to benefit from enjoying a comfortable environment where they will be able to do their work in a place with excellent conditions," affirmed Marcelino Moreno, civic leader for the community of Arenas Blancas.
"One of Drummond Ltd.'s objectives is to promote social development and good relationships with the communities in the areas of influence. This is an example of the actions and commitment that the company has with the municipality of Chiriguana," expressed Yilda Tatiana Pineda Garcia, Community Relations Coordinator in the Department of Cesar.