Drummond Donated the New 'Garry Neil Drummond' Children's Room in the Cesar Departmental Public Library
La Loma, December 27, 2016
Drummond Ltd. reaffirms its commitment to children in the mining areas of influence, the development of early childhood and the promotion for reading for progress and peace.  This is why the company rebuilt the Garry Neil Drummond children's room, located in the Rafael Carrillo Luquez Public Library in Valledupar.
Drummond's contribution included the supply of 900 book for this room, as well as 9 computers and 15 tablets. The total investment amounted to $275 million pesos.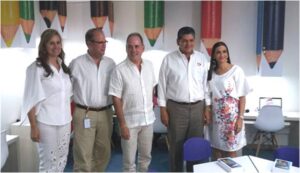 With the presence of the Cesar department's government, Francisco Fernando Ovalle Angarita, who assured that "this space has been built with the objective of contributing to the education, and for the enjoyment of children in Cesar who are the future and hope of our region", Drummond Ltd.  presented the Garry Neil Drummond children's room, which includes spaces for reading where recreational and educational activities can be carried out, apart from fostering several different programs that strengthen the development of the early childhood stage.
Julian Jimenez, one of the children who benefitted from this, stated that "I liked this new room, thank you to Drummond for making this effort so that children can enjoy it. I am going to use this space to read, to do my homework, learn, and play with my friends".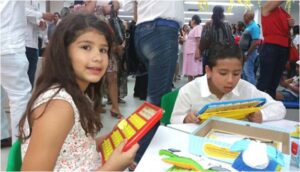 Additionally, Laura Esposito, the mother of a child assured that "the room is spectacular, it is very pretty, very well equipped, very organized, the books are of several different subjects. I bring my children to the library every week so they can learn about animals, literature, and culture".
In the meantime, the reading promotion team of the Rafael Carrillo Luquez Departmental Library in Valledupar, in the name of the Cesar Governorship, recognized Drummond Ltd.'s importance in the region. Maria Victoria Celedon, library director, thanked the company for their commitment with the communities. "Thanks to the company for contributing with this project for the use and education of many children, I invite them to join the Government's national estimated goal to contribute to the quality of the education for Colombia's early childhood, especially in Cesar".
During the event, the educational process that will be carried out by the Rafael Carrillo Luquez Departmental Library was also announced for the first semester of 2017. Thanks to an agreement signed between the Rafael Carrillo Luquez Library and Drummond Ltd., 200 teachers from different educational institutions in the municipalities of El Paso, Chiriguana, Becerril, and La Jagua de Ibirico in will educate in aspects related to the development of communication competencies.