Drummond Donates Musical Instruments to the "Alberto Mendoza Rios" Center for Training in Arts and Culture
La Loma, November 3, 2017
With its donation of musical instruments to the "Alberto Mendoza Rios" School for Training in Arts and Culture in La Jagua de Ibirico, Cesar, Drummond confirms its commitment to communities through the cultural development of children and young people in its area of influence.
The event took place at the Youth House and was attended by Alfredo Araujo, Community Relations Manager at Drummond Ltd., Yarcely Rangel, Mayor of La Jagua de Ibirico, William Mendoza, Coordinator of the Training Center, and instructors, students, and community representatives.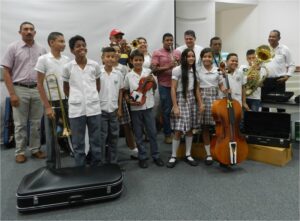 Thanks to Drummond Ltd.'s continuous support, 32 musical instruments were furnished, including 2 trumpets, 2 alto saxophones, 1 tenor saxophone, 4 soprano clarinets, 6 traverse flutes, 6 violins, 6 violas, 2 cellos, 1 bass drum, 1 euphonium, and 1 tenor trombone.
"We are especially grateful to the company Drummond, because this is now another benefit we have generated for the community, and especially for young people. We want to see children and young adults studying at the school and learning with these instruments we previously didn't have," said Yarcely Rangel, Mayor of La Jagua de Ibirico.
This initiative by Drummond Ltd. has the goal of improving the living conditions in the community, one of the objectives established in the company's corporate social responsibility program, which seeks to bring to potential the human capital and talent of the people residing in its areas of influence.