Drummond Employees put Smiles on Faces of Children in Zona Bananera and Casacara at Christmas
Cienaga, January 9, 2018

At the end of December, more than 100 children from Zona Bananera, Magdalena and around 330 children from Casacara in the municipality of Agustin Codazzi, Cesar received Christmas gifts from Drummond Ltd. employees as part of the campaign "Give a gift, Bring Joy to a Heart, and Get a Smile." The campaign has the goal of bringing joy and happiness to the children in disadvantaged communities in the company's areas of influence.
The event was full of love and joy for the children. They danced, sang, and played, enjoying a fun and heartwarming Christmas party together with their families, who thanked company employees. Karen Payares, mother of one of the children from Zona Bananera expressed her gratitude: "Thank you to the Drummond team for thinking about Zona Bananera and bringing smiles to the faces of our children. Thank you for all the benefits you bring to our community, along with the Sol Caribe organization that supports all the mothers in the zone."

During the gift-giving event, members of the Sol Caribe Regional Corporation for Development and members of the Colombian Family Welfare Institute (ICBF) were also present, two organizations that have provided support and follow-up for the children in Zona Bananera. Those organizations also thanked Drummond Ltd.
"We are grateful from the bottom of our hearts for all of Drummond's contributions, because they have put a smile on the face of children who perhaps did not expect to receive a gift this Christmas. Let's continue to fill this community with joy and happiness," stated Mario Gomez, Educational Coordinator at the Sol Caribe Regional Corporation for Development.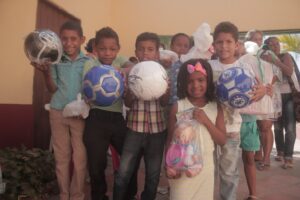 The beneficiary children from Zona Bananera live in Sevilla, in Sacramento, and in the neighborhoods 16 de Julio, Los Cocos and La Balza, which are near the railroad track, and form a part of the area of influence of Drummond's operations.
In Casacara, single mother Maria Alejandra Berrio stated: "It's the first time my children have received gifts from the mine. Thank you for all the presents; they are very nice. And also thank you very much for the refreshments."