Drummond Ltd., Continues to Benefit more Communities with their Tree Planting Program
September 22, 2016
A total of 2,905 trees have been delivered to different neighborhoods and educational institutions of the township of La Loma, municipality of El Paso, as part of the Tree Planting program being led by the Environmental and Community Relations Department at Drummond Ltd. This time, the neighborhoods who benefitted where 8 de Diciembre and Primero la Gente.
"I am very thankful to Drummond for the trees, because we need to replant our neighborhoods, mainly in La Loma, which is very hot. I am very happy with this work, it is an important benefit that we are receiving because in this way we can minimize the environmental impact," expressed Yasmeidis Trespalacios Arrieta, President for the 8 de Diciembre Neighborhood Community Action Board, who received 300 "maiz tostaos" to give away in her community.
After the delivery of the trees, the company supervises the sowing and verifies that the vegetation species are given the correct use. On their part, the communities are responsible for the care and adequate maintenance of the trees.
"With this gift, we are looking to contribute to the town's environment. The community puts in the request and subsequently we make the delivery so that they are planted in the avenues and in front of houses to mitigate the impacts caused by the dust and the sun. The idea is that in five or ten years, La Loma will be one of the populations with the most trees at a regional level," commented Carlos Alberto Espitia Anaya, aid for Drummond Ltd.'s Environmental Department.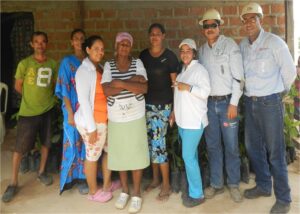 On the other hand, inhabitants of the Primero la Gente neighborhood, received 150 'maiz tostaos' and 75 'cañahuates'. These tree species are preserved in the tree nursery located at Drummond's Pribbenow Mine, where all kinds of species are planted, to comply with the requirements of the communities, including wood and fruit trees.
Nellys de Jesus Saenz Jimenez, Vice-President for the Primero la Gente Neighborhood's Community Action Board, highlighted the importance of the work being carried out by Drummond, with the communities within the area of influence.
"I think this is a very good initiative. I think it contributes to the health of the neighborhood, as well as to the community of La Loma in general, since tree planting reduces the impact of pollution," affirmed the Vice-President.
The Tree Planting program ratifies that the company is committed to its community in social and environmental aspects, apart from promoting the image of a 'Good Neighbor'.