Drummond Ltd. is certified with the International Ship and Port Facility Security (ISPS) Code
Cienaga, July 9, 2019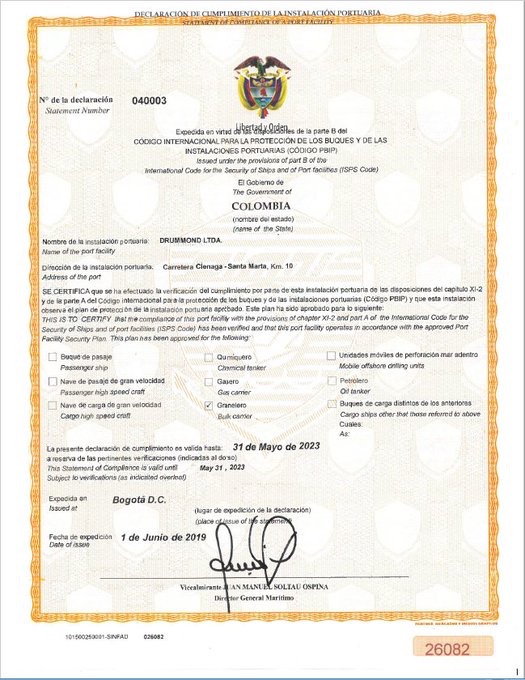 Under the seal of the International Maritime Organization, Drummond Ltd.'s port operation was certified with the International Ship and Port Facility Security (ISPS), which is part of the XI-2 Chapter of the SOLAS-74 Agreement approved by Colombia through Law 8th from 1980, for ports dedicated to foreign trade and international travel.
The General Maritime Direction (Dimar) in Colombia applies this type of codes in the country to avoid port installations and vessels to be used as a means to carry out illegal activities.
"This certification contributes a frame of reference to the Company for the optimization of security measures aimed at minimizing any threats detected: terrorist attacks, drug trafficking, contraband, etc., and which attempt against the safety and integrity of the passengers and crew members on the vessels that arrive at our port and the port installations themselves", explained Edgar Hernando Ruiz Vargas, Security Manager for Drummond Ltd.
Among the benefits offered by this certification are the support for actions aimed at channeling, supervising, and coordinating port operations in matters of security, which are carried out between the vessel that arrives and/or leaves and the port installations that support said activities.
"For Drummond it is fundamental to have and maintain this certification because it improves its image and facilitates the expansion of foreign trade with other companies and countries. This certification is an example of the commitment that we have with the safety and compliance of all standards required by the DIMAR and the International Maritime Organization (IMO), to make Drummond a safe and world-class port," expressed Drummond's Security Manager.
By complying with all the requirements established in the ISPS Code, Drummond reaffirms its commitment with the safety of its port installations.