Drummond Ltd. Supports Business Units for Rural Families in the Corregimiento of Boquerón
La Loma – January 13, 2017
* Thanks to the partnership among the municipal government of La Jagua de Ibirico, Drummond Ltd. and other companies, 84 Boquerón families benefit from the project.
Projects like Drummond Ltd.'s agreement with the municipal administration of La Jagua de Ibirico seek the implementation of business units for rural families in the corregimiento of Boquerón.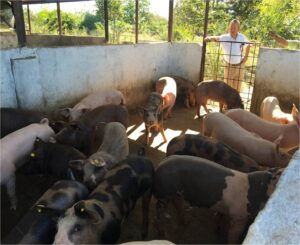 The project being carried out has our company's support. The company periodically distributes food concentrate for hens and pigs, such as that supplied last January 11 under the supervision of engineer Rafael Antonio García, coordinator of Drummond Ltd.'s Community Relations Department, and received by Digna Emérita Reales Díaz,  representative of the ASPROSEMBO association and other associations of the corregimiento of Boquerón.
Through this project, activities such as the implementation of production units with laying hens and pigs for fattening and breeding have been carried out. Those involved in the process receive technical assistance for the management of family business units and training – workshops on the strengthening of businesses – included in the framework of the agreement.
According to Rafael Antonio García, "For the company it is satisfying to be able to participate, in partnership with local governments, in the implementation of projects that provide the community with tools for income generation that contribute to improvement of the quality of life."
For her part, Digna Reales said, "Our community needed this project very much because it contributes to the development of the region. We thank God and Drummond for donating the feed. The profit isn't much right now, but we are certain to reap the fruit of this initiative that benefits the families we work with, and we are going to keep heading forward."