Drummond Ltd. supports the athletic talent of Becerril's youth
La Loma, August 16, 2017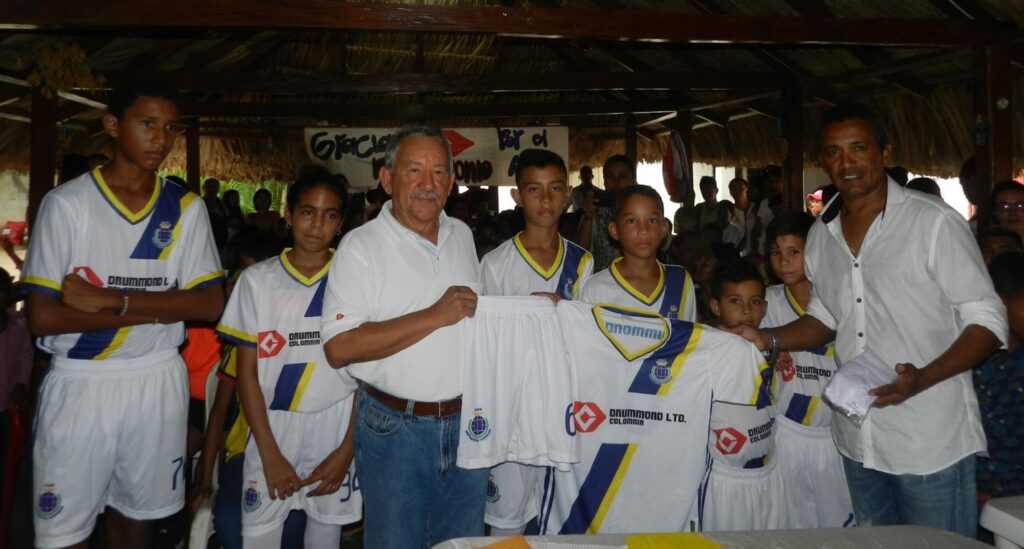 As part of its social contribution, Drummond Ltd. provides support for the Franco Mojica Soccer Academy, providing sports equipment needed to carry out sports activities in the town of Becerril. This academy is made up of children of all ages who want to spend their free time practicing this sport.
Drummond Ltd.'s Community Relations Department traveled to one of the Soccer Academy's sites to provide 60 children from the Nápoles Club with a full set of uniforms, which were received by the founder Franco Mojica and the parents of the beneficiaries, who thanked the company for the contribution.
"Thank you from the bottom of our hearts to Drummond and its employees for supporting us with this equipment. The children are very happy and their parents' hearts are full of gratitude. Thank you so much Drummond," said Carmenza Roa, mother of one of the children from the Soccer Academy.
This initiative led by Drummond Ltd. aims to encourage children and young people from its areas of influence to participate in sports, since they are not just an opportunity for recreation, but they also serve as a tool to teach values, to create a sense of belonging and to encourage the dreams of every child who participates in the soccer practices and games.
"This is very valuable for us and the projects that are coming up in the future. We are growing and learning every day. This contribution is very important to us and we hope this is the beginning of a great relationship between Drummond and the Nápoles Club," said Franco Mojica, founder of the Soccer Academy that bears his name.
For Drummond Ltd., part of its everyday activities includes working hand-in-hand with its communities and being part of the growth of these projects that come from their own initiative for the benefit of their communities, town and municipalities. As Rafael García, Community Relations Coordinator, said, "When we participate in events like these, we see an integrated family made up of the company and the community."
Today the Franco Mojica Soccer Academy is an example of the great talent in the Cesar Department and of the Social Responsibility Program that Drummond has set up to support these young people's dreams.
"My teammates and our parents want to thank you for all of the support you have given us so that we can have a better future," said Esleider Pérez, a member of the Nápoles Soccer Academy.