Drummond Rewards Musical Talent Winners at the Festival of the Community of La Aurora
August 30, 2016
Drummond's Hydrocarbon and Mineral Exploration Division joined in the awarding of the various prizes received by the winners of the Child Piqueria (song duels) and Best Child Voice contest for special recognition of the young talents at the Tobago Cane and African Palm Festival in the community of La Aurora, corregimiento of Chiriguaná, in the department of Cesar on August 12-14. The company participated in this initiative with the support of the Industrial Safety and Occupational Health department (HSE) and the Communities area.
The event was a space for the children of the community to show their various artistic skills with the local instruments of the region. The Board of Directors of the Fundación de la Uvita de Lata y Palma Africana, led by its President Omel Apreza, were responsible for the event.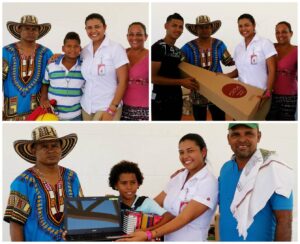 The winners received prizes according to the categories of competition. Among the prizes were a tablet, a laptop computer, an Xbox console, an acoustic guitar and a sports kit.
For Drummond Ltd. it is important to support this kind of event that fosters development and learning among the children in the communities in our area of influence, with the aim of promoting the growth of the various sectors of society.