Drummond's tree planting program: 380 new trees delivered to La Jagua de Ibirico
La Loma, January 5, 2017
Drummond Ltd. delivered 380 trees to the residents in a new housing project called Sororia urbanization in the municipality of La Jagua de Ibirico, Cesar, through the department of Community Relations and the Environment.
Through the Tree Planting program, Drummond Ltd. seeks to create awareness for environmental management and its preservation. The vegetation species that were delivered were grown in the company's tree nursery, located at the Pribbenow Mine where native wood and fruit plant varieties are grown. This is one of the main contributions made by the company's environmental initiatives.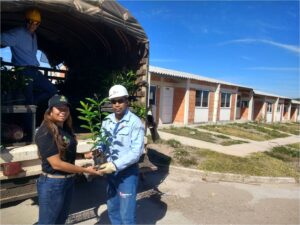 The Mayor of La Jagua de Ibirico, Yarceli Rangel Restrepo, requested Drummond Ltd.'s help to improve the environment of the neighboring municipality in the department of Cesar, through reforestation.
310 mango trees and 70 guava trees were delivered and were planted to create green zones that provide fruit and shade for the houses.
The municipality's Environmental Secretary, Ranmisol Garcia Hernandez, stated that "the purpose of the activity is that each person that owns the house, can adopt a tree and can plant it in their yard to take care of it. We are delivering the trees in a social interest housing project, where 375 houses are delivered in the plan's first stage. This initiative began with the government of Didier Lobo, and ended with the administration led by Mayor Yarceli Rangel."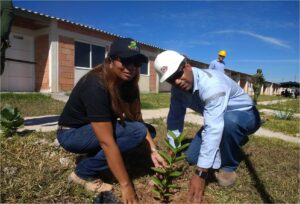 Yarceli Rangel Restrepo, assured that "the intention that we have along with Drummond Ltd., is to plant trees in a new urban zone that is being delivered to the community of La Jagua, called Sororia. This construction has no trees and the idea is to plant the trees in the zone, and for each owner of a house to plant one tree and take care of it.  I am very thankful for the company's donation of the 380 trees that were needed. Every time we think of an activity of this kind, the company supports us and helps us with everything."
The Tree Planting program was born with the objective of creating awareness about the importance of reforestation in the municipalities and townships, therefore, Drummond's Environmental Department will continue assisting the communities in its area of influence by donating trees and sharing the message of preserving the environment.