Cienaga, June 30, 2023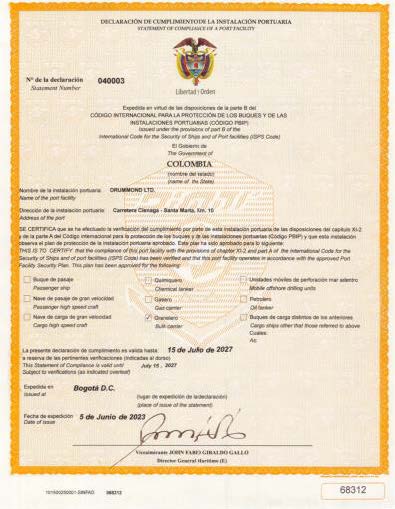 After the audit process carried out in May and June of this year, Drummond Ltd.'s port operation obtained, with the seal of the International Maritime Organization (IMO), recertification under the International Ship and Port Facility Code (ISPS), valid for four more years.
During the audit process, the Physical Security department's commitment to the port's security and the management and control of risks that may affect maritime protection, deserves special recognition.
This recertification is important because, by applying this code, the General Maritime Directorate (DIMAR) guarantees the company's protocols and strict oversight to minimize and detect threats such as smuggling, terrorism, drug trafficking, possession of illegal weapons and dangerous substances, among other illegal activities that put the safety of the Drummond port terminal, its employees and the ships arriving at the pier, at risk.
It should be noted that this code is part of Chapter XI-2 of the SOLAS-74 Convention approved by Colombia under Law 8 of 1980 for ports used for foreign trade and international travel.
"With the ISPS recertification, we reinforce our commitment to safe practices in our operations. We will continue to ensure that the requirements established by the Maritime Directorate in Colombia (DIMAR) and the International Maritime Organization (IMO) are met to continue working for the highest standards in terms of the compliance and the safety of each process that we carry out at the company," said Edgar Ruiz Vargas, Vice President of Physical Security at Drummond Ltd.
By doing so, Drummond Ltd.'s commitment and responsibility to maintain the operational security of its port facilities is reaffirmed, in addition to guaranteeing the supply chain for foreign trade with the appropriate maritime security measures to protect the ships.