Ciénaga, July 6, 2023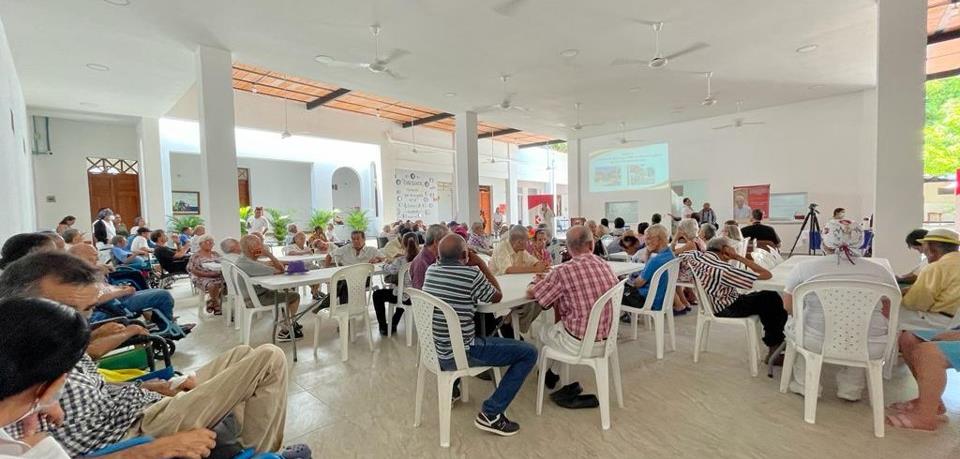 As part of its commitment to generate a positive impact for the well-being of its communities in the area of influence, Drummond Ltd., together with different partners, carried out the remodeling of the dining hall of the 'Elderly Well-being Center Sagrados Corazones de Jesús y María', located in Santa Marta, Magdalena, benefiting around 100 elderly.
"We are pleased because this is the fourth phase. We began this process when it was extremely deteriorated. We began the process of fixing the roof, subsequently fixing the kitchen, but it did not comply with the technical specifications. Today it meets all the technical specifications and with lifting the roof; that is what allows this spaciousness, this comfort, and this well-being that we are offering to the older adults", said Drummond Ltd.'s community relations senior supervisor, Álvaro Daza.
An investment of approximately 243 million pesos was made to adapt the Dining Hall, of which Drummond contributed more than 150 million. This project was conducted within Drummond's corporate social responsibility framework, based on the Governance pillar and within the Institutional and Community Strengthening Program.
"Being able to execute the 'Gathered around the table' project has a very special meaning because planning it was a great challenge since our final goal was to offer these older adults a dignified space to eat their meals. We are extremely happy, and this is a message that these older people are transmitting because they really feel comfortable", stated Leidy Moreno, administrative director for the Well-being Center.
It should be noted that within its work, Drummond Ltd., together with the food service contracting company, ESS Compass Group Services Colombia S.A., have donated to the Asylum, between the end of 2022 and 2023, around 660 kg of non-perishable food.
"I have been at the asylum for four months and it has been a great surprise how they treat us here and this wonderful thing that Drummond has given us, we have so much to thank them for", expressed Reinaldo Osorio, older adult living at the asylum.
Drummond will continue to work with different partners to facilitate the sustainability of projects that benefit the older population near its communities.