Ciénaga, July 17 of 2023
*The new community meeting space seeks to have a dignified place for the community to carry out training, cultural, entertainment, and educational activities.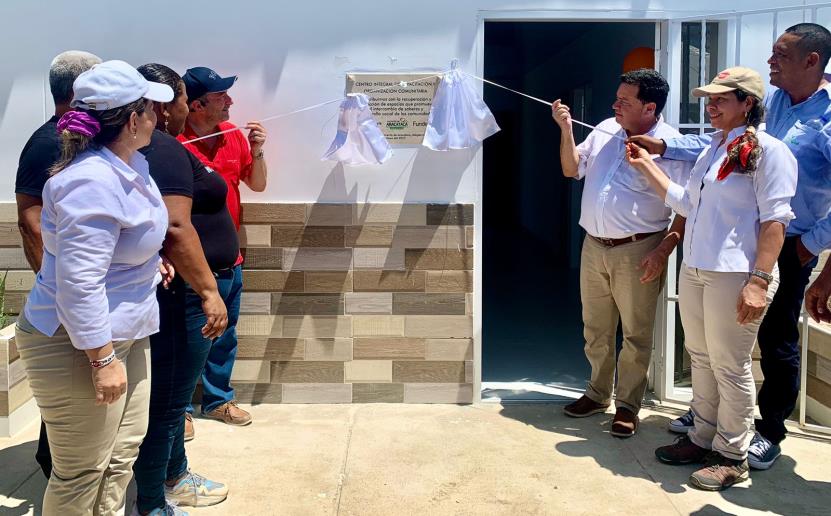 Within the framework of its social commitment, Drummond Ltd. in partnership with Fundeban, and with the support of the Aracataca Mayor's office made the official delivery of the restoration of the 'Training and Community Organization Comprehensive Center' in the township of Cauca, municipality of Aracataca, Magdalena.
"We are happy to participate in these types of events, as these are spaces that contribute to improving people's quality of life. We will continue to promote the creation and accommodations of these type of social spaces. We are convinced that the enormous benefits that these interventions have in the communities. This work is performed for the use and enjoyment of all inhabitants," said Iris Yancy Orozco, executive director for Fundeban.
The work done on the Training and Community Organization Comprehensive Center was performed in six months, and more than COP 160 million were invested of which Fundeban contributed 48% and Drummond Ltd. the remaining 52% of the total budget. The center will benefit a potential population of 1.900 people in the region.
"Through its pillar of governance for development and the strategic line of institutional and community strengthening, Drummond worked on this project with Fundeban to promote dialogue between the communities so that it becomes a bridge for development and peace. We delivered a space that makes us feel very pleased. This is equipped so that young people are also at the forefront so they can connect with the world," expressed Álvaro Daza, senior community relations supervisor for Magdalena at Drummond Ltd.
In addition to building its infrastructure, the Community center received a laptop, printer, chairs, fans and desks, among others.
"This is an ideal space where the community board has its space, where the community has their space, and this will remain here forever, as it is going to have the support from our municipal mayor's office and the next administrations," said the mayor of Aracataca, Luis Emilio Correa.
This work becomes the base to generate an active involvement of the Aracataca citizens from where they will be able to strengthen integral development, dialogue, and actions of peace.