Fenalco and Drummond Ltd. unite to support Santa Marta's 10K Race
May 12, 2014
On May 18, 2014 Santa Marta will have the opportunity to participate in an event that promotes fitness and generates a space for integration and recreation where children, teenagers and adults will receive a medal for actively participating in Santa Marta's 10K Race.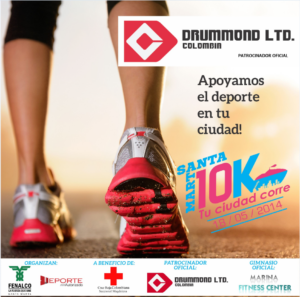 The sporting event, which has been organized for the second time by the National Federation of Businessmen, FENALCO, seeks to generate recreational spaces that, besides benefiting the people from Santa Marta and the participants from other regions, will help position the tourist city as a site in Colombia where fitness and healthy coexistence are promoted.
Drummond Ltd. is the official sponsor of the race which will begin on Sunday, May 18, 2014 at 7:00 a.m. This year it will have a new route in which the athletes may compete or enjoy a leisure run with different categories available.
The registration is open in the children's category, who will compete in the Simón Bolívar Park. The 5-kilometers route available for joggers and walkers, is geared to those who wish to participate in a recreational run.  Similarly for those who wish to compete, the 10-kilometer category has been included.
On this occasion the Santa Marta 10K "Your City Runs", is expected to have approximately 2,000 athletes, in comparison with the 1,300 participants from last year.
The race that will be carried out in benefit of the Colombian Red Cross, Section Magdalena, is also supported by the Mayor of Santa Marta, the Marina Fitness Gym, The Athletics League of Magdalena, Amoblamiento Urbano, the Universidad Cooperativa de Colombia, Tayrona Free Trade Zone, and Interaseo among others.
For Drummond, it is very important to promote activities that motivate adults, teenagers and children, especially those from the communities in their area of influence, to participate in new recreational alternatives that strengthen their interest for healthy activities.