Fishermen from Drummond's area of influence grow through training and knowledge
Cienaga, June 8, 2017
*17 fishing associations were part of a training course to repair fishing vessels and engines.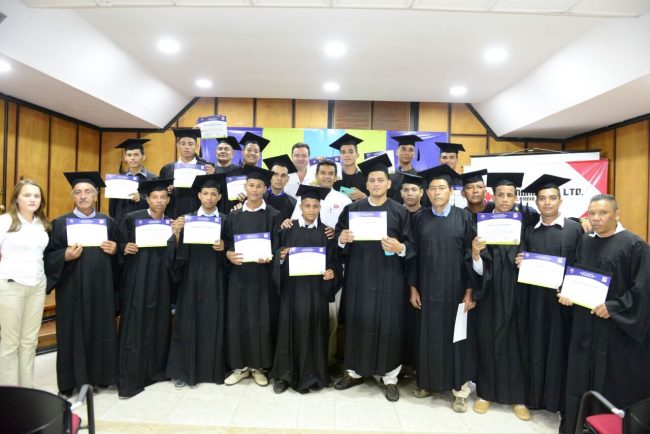 Fishermen from Ciénaga, Don Jaca and Aeropuerto after completing the course and receiving their certificates.
As part of the development of the Community Empowerment Plan led by Drummond Ltd. through its Social and Environmental program, certificates were awarded to the fishermen from the areas surrounding Puerto Drummond, which included Ciénaga, Aeropuerto and Don Jaca, after completing a course to acquire new knowledge and strengthen their fishing skills.
Drummond Ltd., with the support of the Universidad del Magdalena as an educational and certifying entity, and the Naval Non-Commissioned Officers' School of Barranquilla, provided the fishing communities with the opportunity to receive training in the Maintenance and fault detection in outboard motors for artisanal fishing boats and Fiberglass reinforced polyester for the construction and repair of artisanal fishing boats certification courses.
During the event, Amilcar Valencia, Manager of the Environmental Department, addressed the fishermen, stressing that these courses were provided to generate a benefit for the community, in addition to expanding their opportunities for entrepreneurship. "You have worked hard, and we know how important your work is, [and] we want to be part of that recognition through this process. This is the basis that you have now to create benefits for society. We at the university and the company are providing you with the tools. In the end, it is in your hands, and we hope that it will be helpful, useful and constructive for this society."
Both certification courses, held during the first half of 2017, took place at the Taganga Pilot Plant in Santa Marta and lasted for 120 hours.
Alvaro Daza, Coordinator of the Community Relations Department, who has followed the entire process, said: "Everyone who has contributed to carrying out this project is optimistic about this stage that has been completed. The seal of success will be complete the day that the women's group, like the men's group, is working on and strengthening their production units, and to do this we have important organizations such as FUNDEMICROMAG, SENA, USAID-ACDI/VOCA and the authorities from the marine and fishing sectors."
As part of this process, in 2016 Drummond Ltd., in partnership with DIMAR and the Santa Marta Coast Guard Station, provided the fishermen with a training cycle, providing opportunities for them to acquire new knowledge about repairing boats and motors.
Twenty-two fishermen participated in both courses, showing their satisfaction at the end of the course. "I feel extremely grateful and proud to be at this great event. We have nothing but words of thanks for the people who made this possible and helped us with great humanity to build and realize this dream. This is also a way to build and achieve the peace that all Colombians need so much," said Alberto Ruiz, member of the Association of Fishermen and Tourism Service Providers of Puerto La Loma, ASOPESTUR.
These courses are the start of an empowerment process and the basis for generating more opportunities for entrepreneurship, as Andrés Urieles said: "I would like to say that this course has already started to pay off. I am one of the fishermen from the area of influence, from Don Jaca, [and] when our boats got damaged, we would leave them lying there to throw them away. We had to hire outside people who charged us a lot for the repairs, but now we are the ones who can do the repairs and help our fellow fishermen, thanks to the knowledge that we gained from this great course that was sponsored by Drummond. This is the opportunity that they gave us and we are taking advantage of it."