In this issue of Revista Drummond: Health and Safety Certification, an Achievement by All
May 2, 2016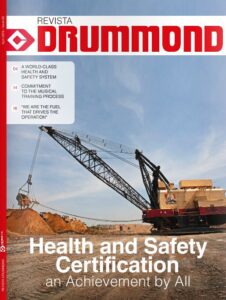 "Obtaining this international certification is an achievement by all of our employees, who took control of the process. With gratitude, I mention the involvement of our core staff, administrative employees, internal auditors, sponsors, superintendents and even our contractors. Between 2013 and 2015, more than 4,000 people took part in this initiative," said Jose Miguel Linares, President of the company.
In line with our commitment to carry out a sustainable and safe operation, the magazine also addresses the importance of having a fleet of 30 water tankers that fulfill the mission to control emissions of particulate matter, thereby contributing to environmental protection and safety of our employees.
Speaking of our employees, in this edition we also describe the benefits our employees receive beyond their wages.  The article gives a comprehensive description of how the company takes care of its workforce.
Our commitment goes beyond our facilities. It expands to the neighboring communities, as reflected in the article that describes Drummond's work with the Philemon Quiroz Music School, in the Becerril municipality. Since 2004 the Company has donated musical instruments and uniforms, benefiting more than 400 children.
The participation of our employees in building our history is also very important. In this edition you will find an article written by the assistant supervisors of the Warehouse at Puerto Drummond, Raimundo Plata and Glen Fuentes, who describe their contribution to the company and its goals.
We invite you to access the latest edition of Revista Drummond at the following link:
https://www.drummondltd.com/news-publications/drummond-magazine/?lang=en