INFOTEP Students Visited Drummond Ltd.'s Pribbenow Mine
La Loma, November 15, 2016
Drummond Ltd. received a visit from students in their fourth semester in the Mining, Industrial Safety and Occupational Risk Prevention programs at the National Institute of Vocational Technical Training (INFOTEP, in Spanish) in San Juan del Cesar – Guajira; during which their knowledge was strengthened through talks with the company's administrative staff.
María Piedad Bravo Urango, Social Worker from the Community Relations Department, and Fray Orozco, Supervisor from the Environmental Department led the discussions on the topics and communicated Drummond's programs and projects.
María Piedad Bravo presented all of the projects that have been developed and are currently being managed at the company to improve the living conditions of the residents of the mining area of influence.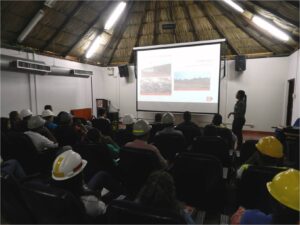 "It is essential to present the social responsibility component during the visits that we receive from students, teachers, associations, leaders and others, so that they recognize Drummond Ltd. as a well-rounded organization that, in addition to working on mining and environmental issues, joins in efforts for the welfare of our communities; being good neighbors," explained María Piedad.
Fray Orozco continued the talk, discussing the practices that the company uses to control the environmental impacts generated by coal mining.
The Environmental Supervisor shared the company's environmental management plan, noting that effective environmental management depends on proper implementation and constant monitoring. He showed the mining plans that take environmental variables into account and avoid negative impacts. Internally, he highlighted the use of equipment that is effective in controlling the dust generated in the loading operations.
During the visit, the students had the opportunity to see the El Paujil reservoir, one of the company's most important strategic environmental projection systems.
"It seems like it is a company that is committed to the environment, a company that seeks to protect both the workers and the environment. This is what we see in the prevention of occupational risks and the working conditions. They make the workers more responsible and make them perform better. I should also note the controls that the company uses to reduce the dangers and risks associated with coal mining," said Sorangie Paola Serpa Daza, a student in her fourth semester studying Occupational Risk Prevention at INFOTEP.
Ever Joaquín Bermúdez Daza, a teacher at INFOTEP, in addition to praising the processes used to protect the environment, complimented the significance that the company gives to the communities and to its future professionals.
"Drummond's behavior toward the community is very good. The company handles the relationship very well, it is very responsible, and the projects are high-quality. Students need interaction with companies like these to expand their knowledge of environmental management, safety and social responsibility. Drummond has excellent quality," the INFOTEP teacher emphasized.