ISO 14001:2015 Environmental Certification for Drummond Ltd.'s Mining Operations
La Loma, August 1, 2018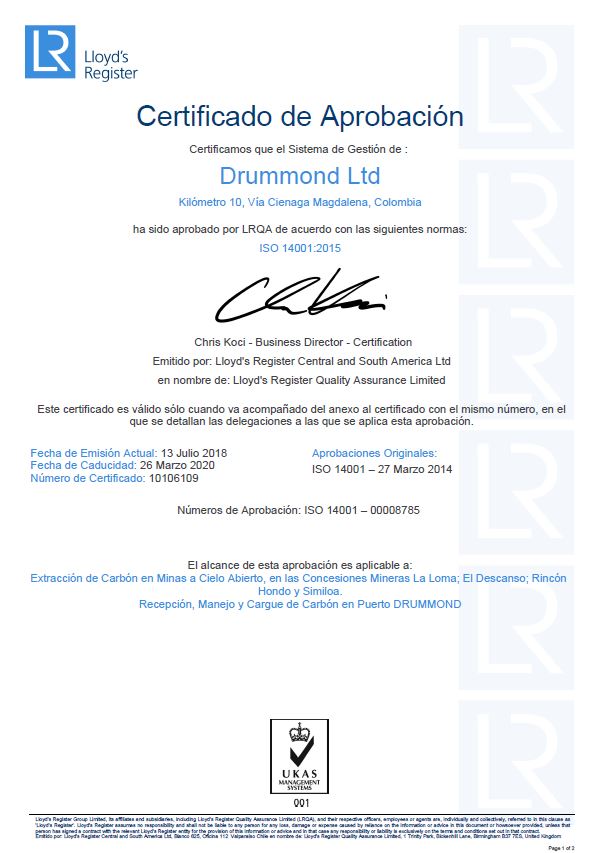 Under Lloyd's Register approval mark, Drummond Ltd.'s mining operations received certification under the International ISO 14001:2015 standard, applicable to the coal mining operations of La Loma, El Descanso, Rincon Hondo, and Similoa, and to the receipt, handling, and loading of coal at Puerto Drummond.
This new certificate gives the company a framework of reference for optimizing the performance of the Environmental Management System, targeting risk management, improvements to environmental performance, and sustainable business development.
Among the key objectives of the ISO 14001:2015 standard are protection of the environment, mitigation of risks, compliance with all
legal obligations, continuous improvement, performance evaluation, and active communication of environmental information, demonstrating the company's commitment to the environment.
In contrast to past certifications, ISO 14001:2015 adopts the structure of the Annex SL or 'high-level structure' that can be applied to all the ISO management systems, facilitating integration of the different standards.
Through compliance with all of the requirements of this international standard, Drummond Ltd. reaffirms its commitment to the environment.