Most Recent from Drummond Magazine: 'We Work in Harmony with Human Rights'
October 28, 2016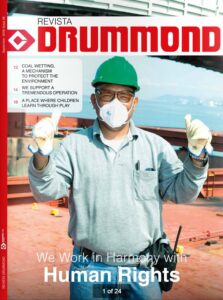 The most recent edition of Drummond's magazine, contains contents that reflect the commitment that we have with protecting human rights; including the members of our human talent, as well as with the environment and the communities in our zones of influence.
In the different articles, the magazine highlights aspects that show the importance of promoting peace and respect within the company's corporate life style, as well as solutions that have been agreed upon with the involvement of the different unions, for the benefit of all.
In relation to the environment, this edition details the different mechanisms to humidify and compact the coal as a responsible method to mitigate environmental impacts and reduce health risks of employees and the communities.
Other topics include the programs that are being developed for the improvement of our communities' quality of life, and the company's commitment to an integral education of the children in neighboring populations.
´We work in harmony with human rights´ is the compilation of the different articles that contribute to the social spirit and support Drummond Ltd.'s corporate identity. We would like to share the link https://www.drummondltd.com/revista/  so our readers can understand more of the work that we continuously carry out to continue our sustainability as a company.