Puerto Drummond receives a Prize for Excellence
October 20, 2016
*During the commemoration of its 64 years, the General Maritime Authority (DIMAR) highlighted the work of Drummond Ltd., through its port subsidiary American Port Company, for its valuable contribution to the consolidation of Colombia as a maritime nation.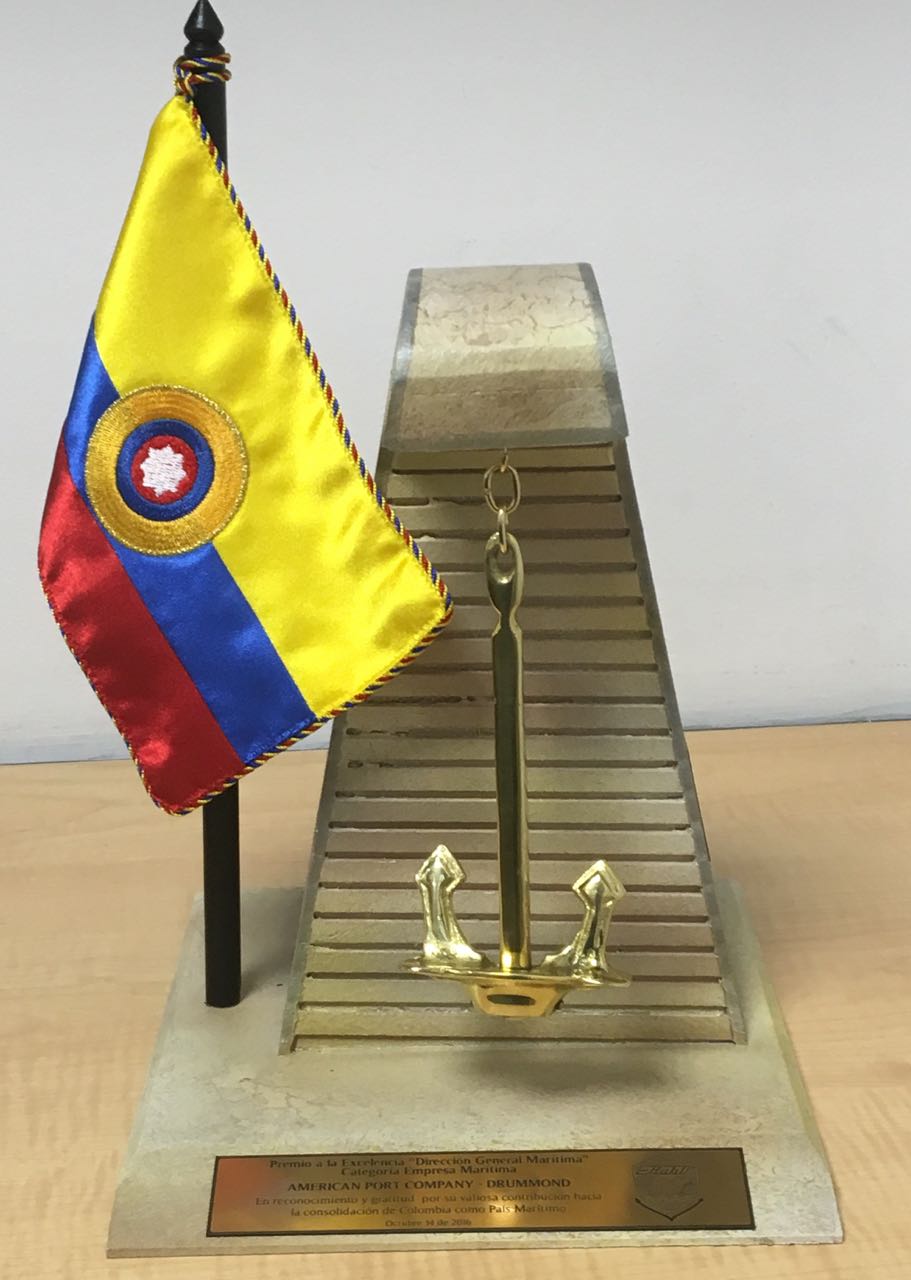 On October 14, at the Antares Naval Club in Bogota, the General Maritime Authority gave American Port Company the Prize for Excellence in the category "Maritime Company," for working with the authorities to contribute to and promote the harmonious development of the seas. This award highlights the support the company has provided not only in moments of contingencies, but through projects and activities that contribute to well-being on the seas.
This includes support for environmental education campaigns with beach cleaning and tree planting, committed participation in the different simulations organized by the Captain of the Port of Santa Marta, active integration in the Mutual Assistance Plan, and the continuous implementation of actions that contribute to improving port safety, all in favor of national maritime development.
"The company and all its employees can be proud and satisfied to receive this recognition. It is a clear reflection of our daily work in the most modern coal Port with the greatest export capacity in Latin America," said Enrique Alvarez, Administrative Manager of Puerto Drummond.
The award was presented by the General Maritime Director, Vice Admiral Pablo Emilio Romero, who recognized the work of Drummond Ltd. and its Port operator.
The General Maritime Authority (DIMAR) took advantage of the occasion to extol the work of institutions and personalities that have taken action to stimulate development and conservation of the seas, areas in which Drummond will continue to work as it strengthens its commitment to its surrounding environment.