Senior citizens at the Sagrado Corazón de Jesús nursing home will benefit from the improvements provided by Drummond
Ciénaga, September 14, 2017
On September 8, Drummond presented the work it completed to remodel and equip the kitchen and dining room at the Sagrado Corazón de Jesús nursing home in the city of Santa Marta, as part of its Social Responsibility plan.
The goal of this project was to contribute to the well being of the senior citizens and optimize conditions at the nursing home to improve their quality of life, while at the same time contributing to the program included under the Departmental Development plan.
Attending the presentation was Drummond Ltd.'s Community Relations Manager, Alfredo Araújo, who was happy with the result of the work that was being presented. "The company and I are proud to complete projects that are primarily aimed at helping children and the elderly. They are the ones who are in the greatest need of assistance and a helping hand to face difficulties at the start or the end of their lives. We will remain committed to you, and the Sagrado Corazón de Jesús nursing home can always count on Drummond's support and assistance."
The remodeling of the nursing home's kitchen included providing the supplies needed to prepare meals for the elderly residents, such as pots and pans, an industrial stove, an oven, a water filter and a mixer, among other items.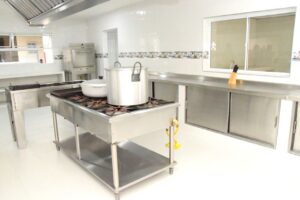 The director of the nursing home in Santa Marta, Sonia Sánchez, thanked Drummond for its interest in supporting this cause. "My mission is to try to care for all of the elderly who live in this institution to give them a better quality of life. I am very grateful to Drummond because, from the time that they started to work with the nursing home, they have been helping us with everything we need; today all of us, including the families of these senior citizens, thank the companies and the individuals who made this whole project possible."