The Course Concludes for 'Strengthening Public Institutions for the Presentation of Projects to the General Royalties and Social Control System'
La Loma, December 20, 2016
Gelca Gutierrez, Dean of the Andes Area University Foundation, Valledupar office, and Alfredo Araujo, Manager of Drummond Ltd.'s Community Relations Department, presided over the closing ceremony for the course on 'Strengthening Public Institutions for the Presentation of Projects to the General Royalties and Social Control System,' taught by the Andes Area University Foundation.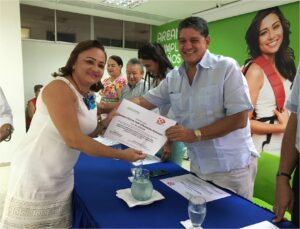 "The purpose of the course was to, build a network of professionals in the five mining municipalities over time, who can formulate projects to be financed by royalties, using an effective, efficient, and suitable methodology, in favor of the region's development, regardless of which administrator is in office," emphasized Alfredo Araujo.
Araujo also pointed out that it's very important to have trained personnel – young professionals and leaders who represent the regions – who can continually raise awareness over time about obtaining royalties to fund projects that can transform people's lives in these communities and make progress toward development, which is extremely important.
In addition, "we make efforts to train Citizen Oversight Networks so that when the resources come there will be citizens providing oversight for the resources," specified Araujo.
Last May, the Valledupar office of the Andes Area University Foundation and Drummond Ltd. signed two cooperation agreements whose objectives are to strengthen and relaunch the Committee to Follow up on Investments of Royalties, or 'CSIR' Cesar, and also to strengthen skills in comprehensive project management in the coal-producing municipalities in the Department of Cesar (Chiriguana, La Jagua de Ibirico, El Paso, Becerril and Codazzi).
With respect to this training, Dean Gelca Gutierrez stated that it gives the Andes Area University Foundation great satisfaction to be the strategic ally chosen by Drummond in this region to develop and undertake an activity as important as strengthening institutional capacities in mining municipalities.
"The new National Royalties System poses some challenges for the regions relative to their capacity to bring in resources by formulating projects that are complete and consistent. That's why it's important for us to accompany them, to create strengths and local abilities, so that we have municipalities that are capable of formulating strategic projects that will have an impact on the quality of life of their residents," explained the Dean.
Ismena Van-Strahlen, Secretary of Planning in the municipality of La Jagua de Ibirico, confirmed that the course was an invaluable experience for her. "We were able to reinforce knowledge that was previously ambiguous, and now we've received training that gives us the capacity to strengthen our institutions; in my case the Office of the Mayor of La Jagua de Ibirico. This has been an important course both on a personal level and on a professional level," explained Van-Strahlen.