The National Agency for Reincorporation and Normalization Recognizes Drummond's Contribution to Peacebuilding in Colombia
Bogota, December 7, 2017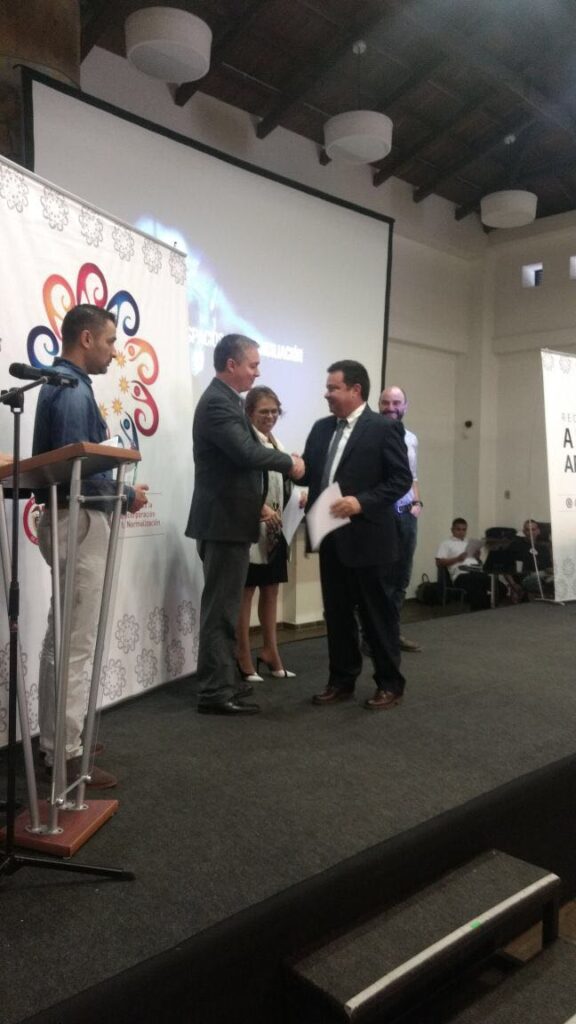 The Agency for Reincorporation and Normalization (ARN in Spanish), the institution in charge of promoting the return to legality of demobilized former combatants, drew special attention to Drummond in the category "Arenas for Reconciliation" for its contribution to peace-building in the country.
The event "Awards for Allies 2017," held in Medellin on December 5, 2017, highlighted the work of all the organizations that have been part of the different fronts of the process to build peaceful coexistence in Colombia.
Starting in 2013 and until September 2017, according to the report published by the ARN, 28,108 former combatants have participated in community actions through social service in 50% of the municipalities involved in the project. Seventy-six percent of those participants have not returned to illegal activities, and 90% believe that their quality of life has improved significantly.
These figures show the impact this initiative has had on the transformation of the lives of former combatants, and on the communities that have benefited from the social projects in which demobilized persons have participated.
"The opportunities created with public and private parties have been vital to helping former combatants overcome their vulnerability in a sustainable manner. That's why we want to give public recognition to the strategic allies that have supported this process, making it possible for more than 50,000 Colombians to have an opportunity to build their life projects in the framework of legality. That's the case of Drummond LTD, which has always contributed unconditionally to building peace in this country," stated Joshua Mitrotti, Director of the ARN.
More than Numbers, it's the Actions
Since 2016, Drummond has developed initiatives for people in the process of reincorporation to engage in social service. Currently, the prevention strategy called "Mambrú doesn't go to war" is underway at five institutions in the municipality of Ciénaga, in a coordinated project by the company, the Municipal Mayor of Ciénaga, and the ARN.
The company's support for the reintegration process has permitted:
The improvement of physical facilities at schools.
The maintenance and construction of athletic fields and facilities.
The development of culture and recreation by producing pamphlets for out-loud reading programs (the "Mambrú doesn't go to war; that's another story" project), to prevent the recruitment of children, teenagers, and young adults by illegal armed groups, in which demobilized persons have participated in significant numbers.
Programs for reweaving the social fabric: The implementation at schools of the "El Golombiao" the Game of Peace Project, which uses soccer to promote values and the ability to get along with others.
Drummond believes that this recognition by the ARN "is another way to underscore its work with the community and the commitment of former combatants to projects with social value. In this sense, the company remains committed to the ARN, to demobilized persons, to communities and to the country," indicated Alvaro Daza, Community Coordinator at Drummond.