The 'Santa Marta 10K' brings sports to life in the capital of Magdalena
June 11, 2015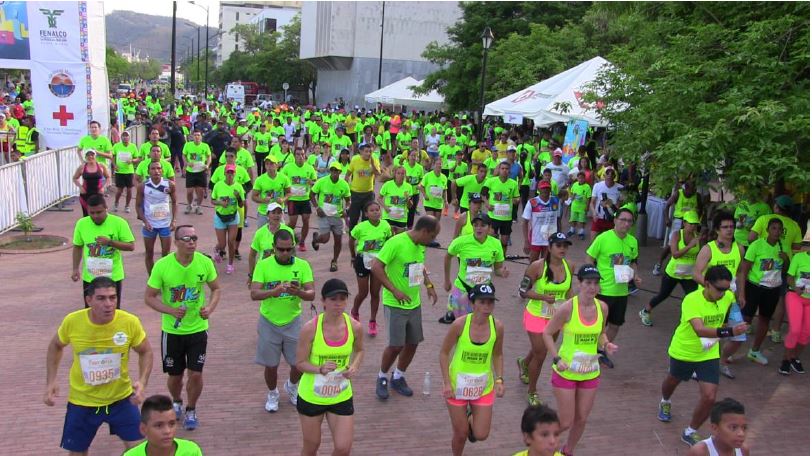 On Sunday, May 31st, starting at 6:30 a.m. sports enthusiasts and participants joined together in fitness to run through the streets of Santa Marta. The race was led by the National Trade Federation – Fenalco Santa Marta – and sponsored by Drummond Ltd.
There were approximately 1,200 runners who joined the race with a social meaning that was supported by Deporte Autorizado, the logistical operator of the race, and held to benefit the Red Cross – Magdalena Section – and the Casa en el Árbol Foundation: created by former beauty queen Taliana Vargas, who was the official image of the third year of the Santa Marta 10K. The event achieved its goal of involving children, youths and adults through this recreational event with family and friends.
"With events like the Santa Marta 10K, we complement the range of tourist services that are offered in Santa Marta, and it motivates us to continue contributing tom the importance of fitness," said Aura Carolina García, a representative for Fenalco.
For those who were interested in competing, the 10K was also a race for participants to show off their athletic abilities. In turn, participants who were looking to spend time on healthy recreation ran in the 5K.
The event was organized by Fenalco and included participation by residents, athletes from various sports leagues, and was supported by other organizations. Drummond Ltd. was an official sponsor along with about 25 others which, including private companies, public agencies, the media and the authorities.
Registration is now open for 2016. Antonio Jassir Atique commented after winning the award for top runner in the Senior Master category, "Many thanks to Fenalco, to Drummond; I tell everyone in Santa Marta, you should support this race next year, this event has social significance. That is so important, because we have to do things for others, so come out next year."
Drummond Ltd. congratulates all of the winners and runners who participated and helped strengthen the Santa Marta 10K this year. The company will continue supporting and promoting these activities that offer residents and visitors a space where culture is strengthened by practicing sports, and a better city is built at the same time.
"The message is very clear: sports mean health, unity, building a city and additionally, if we consider that we were supporting two projects as lovely as the Red Cross and the Casa en el Árbol, the result could not be better; all of this perfectly focuses on the scope of our Corporate Social Responsibility program. Drummond is very proud of this sponsorship and will continue to support these events," said Enrique Álvarez, Administrative Manager for Drummond Ltd., at the end of the event.
More moments from the 'Your City Runs' Santa Marta 10K