U.S. Ambassador's visit to Puerto Drummond concludes with dialogue with USAID beneficiaries
Cienaga, January 16, 2018
The U.S. Ambassador Kevin Whitaker, accompanied by other high level attaches at the Embassy that included the head of USAID, Lawrence Sacks, visited Puerto Drummond on January 11. The diplomatic group was welcomed by Drummond Ltd.'s President, Jose Miguel Linares, the Vice-President for the Transport Department, Peter Burrus, and top company officials in charge of port and rail operations, as well as administrative management. The conversations during the visit included topics such as operations, safety, environmental performance, and corporate social responsibility.
The visitors were shown the processes that take place at this marine coal terminal, the largest in the region, from the moment the coal leaves the mine in Cesar, traveling through several municipalities in Cesar and Magdalena, and finally arriving to Puerto Drummond in Ciénaga, where the coal is unloaded and transferred either to the storage yards or directly to vessels docked at the pier.

Partnerships that promote reconciliation
In addition to the operational processes, the Ambassador and his team had the opportunity to have a conversation with the beneficiaries of projects for which Drummond has partnered with USAID and ACDI VOCA.
In this interaction, beneficiaries of the program from the municipality of Ciénaga, who have made personal progress as a result of the support provided by the programs that seek to generate dialogue, respect, trust, and work their way through reconciliation by contributing to the resilient environment that resulted from the lives that have been impacted by violence.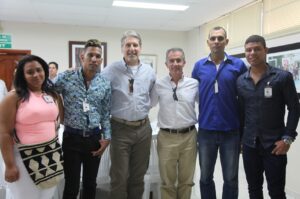 By participating in these programs, these individuals receive tools to help change their way of thinking, their attitudes and behaviors in a positive way, giving them a chance for a better future. This is the case of Yesica Paola Peralta Hernandez, who summarized her life story to the Ambassador and the group: "This has been a very nice experience. In addition to the fact that it has helped me a lot in my day to day life. I was struck by violence (…). This program for partnership and reconciliation has been useful to me because it has helped me to forgive those people who hurt us so much, because now I know that if I generate violence I will receive violence, and we have to learn how to forgive." Currently Yesica, thanks to the program, is undergoing specialized beauty studies, which has allowed her to work as a stylist.
In the same way, Junior Antonio Rodriguez Tovar expressed how the program has impacted his life: "What is different about the program is the psycho-social workshops that we receive, because wherever we go they prepare us to get into the labor market, but here they are strengthening who we are, we learn how to prepare for life, to be able to face it, the assertiveness that we need to have when faced with resolving a problem. The changes that these workshops generate are of great impact, because we hadn´t been aware of our mistakes. Thanks to this we are more aware, we are being agents of change, and multipliers of what we observe".
During these interventions, USAID director Sacks stated: "I would say that we also have a lot of experience working with violence and being able to measure it. It is not easy to measure the psycho-social impact, or that of reconciliation. However, there are some ways to do it. There are tools that we can share with you and see if they are useful. Thank you for your comments."
The interaction with the beneficiaries and Drummond motivated the Embassy to reaffirm its commitment with the projects that are being carried out, and which strengthen the relationships between both countries. "Now that they are part of an effort being made to demonstrate through their words, thoughts, and actions, what the world is in the Colombia that you are looking for. The most important is that we have been at Colombia's side for a long time, and you can count on us," expressed Ambassador Kevin Whitaker to all those present.
Drummond Ltd.'s President José Miguel Linares thanked the Ambassador for his words and his visit, and stated that Drummond is "fully aware of the important role we play in the communities of Cesar and Magdalena, of what we represent for the development of the country, as well as this reconciliation process."