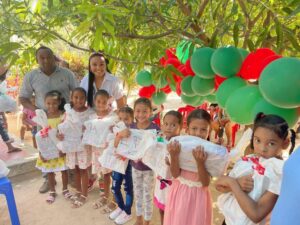 With the goal of spreading Christmas cheer, Drummond Ltd. employees came together to take gifts to vulnerable communities in the company's area of influence in Cesar and Magdalena.
Through the in-house campaign, 'Give a gift, Bring Joy to a Heart, and Get a Smile in Return,' which has been going on now for more than 16 years, employees are invited to make voluntary donations for the purchase of gifts. This year, 636 children from Arenas Blancas in Chiriguana, La Guajirita in Becerril, and Vegoña in the district of Casacara were blessed by the gifts delivered in Cesar.
"I'm grateful to Drummond's employees for all these gifts that they've brought to the town of Casacara. This assistance affects more than 200 children in children's homes. It brings us great joy, because they are very happy and full of smiles," said Jean Carlos Cobo, Inspector in Casacara, Cesar.