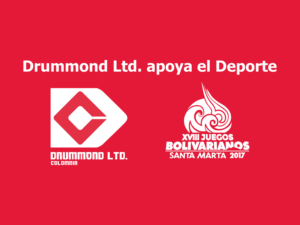 Drummond signed an agreement with the Colombian Olympic Committee and the Santa Marta District Mayor's office to be the official sponsor of the 2017 Bolivarian Games.
The event, which begins on Saturday November 11, is one of the most important sports events in the region. The agreement will allow Drummond to promote sports and a healthy coexistence, both key action scopes from their pillars of its Corporate Social Responsibility, through which the construction of social fabric is strengthened and increases interest for these disciplines in young adults and communities.
"This initiative allows Drummond Ltd. to support the talent and growth of athletes. We are committed to the local, regional, and national progress, and to sponsor integral development not only of the region, but also the entire country", stated José Miguel Linares, president for Drummond Ltd. in Colombia.