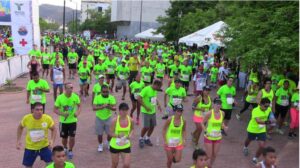 On Sunday, May 31st, starting at 6:30 a.m. sports enthusiasts and participants joined together in fitness to run through the streets of Santa Marta. The race was led by the National Trade Federation – Fenalco Santa Marta – and sponsored by Drummond Ltd.
There were approximately 1,200 runners who joined the race with a social meaning that was supported by Deporte Autorizado, the logistical operator of the race, and held to benefit the Red Cross – Magdalena Section – and the Casa en el Árbol Foundation: created by former beauty queen Taliana Vargas, who was the official image of the third year of the Santa Marta 10K. The event achieved its goal of involving children, youths and adults through this recreational event with family and friends.
"With events like the Santa Marta 10K, we complement the range of tourist services that are offered in Santa Marta, and it motivates us to continue contributing tom the importance of fitness," said Aura Carolina García, a representative for Fenalco.