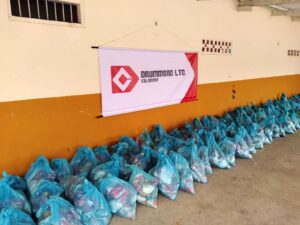 Understanding the needs in its area of influence, Drummond Ltd. has again donated groceries to vulnerable communities in Cesar and Magdalena as part of its work to promote the general welfare in the midst of the emergency caused by COVID-19.
Through the Association of Colombian Food Banks in Magdalena and the Mi Futuro supermarket in Cesar, and thanks to support from regional institutions, 13,500 families in 14 municipalities of Cesar and Magdalena received essential items that will support them nutritionally during the quarantine.
This most recent delivery is on top of the 13,300 food parcels the mining company donated to people in its area of influence at the beginning of April, for a total of 26,800 bags of basic food products. Workers from the company also donated 222 food parcels to the inhabitants of Boqueron, in the municipality of La Jagua de Ibirico, and the company delivered an additional 170 baskets to the Port Authority and the Coast Guard in Magdalena to benefit vulnerable communities on the coast. In addition, some of the company's contractors donated 1,000 food parcels in La Loma to make their contribution to food security.