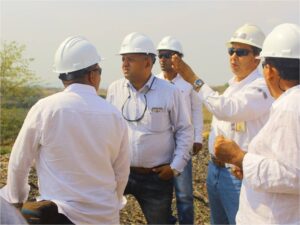 The mayor of Bosconia, Juan Enrique Aaron Rivero, municipal officials and city councilmen were able to see different areas of the operations at Drummond Ltd.'s Pribbenow mine through a field visit guided by company employees.
Drummond Ltd. is always pleased to welcome neighboring communities and local, departmental and national authorities to its operations. This time, it received a visit from the Mayor's office of the municipality of Bosconia, led by mayor Juan Enrique Aaron Rivero, officials and members of the city council, who witnessed from different locations the company's hard work and achievements in terms of environmental mitigation, industrial safety and social responsibility.
"Thanks to this opportunity, we could see the proper way that Drummond is handling environmental issues and we hope that these policies continue to benefit the environment in our department," the mayor said after having visited three lookout points where the mining activities and their responsible management could be observed. The implementation of environmental measures that make Drummond's presence in the region synonymous with sustainability and development were visible from these vantage points.