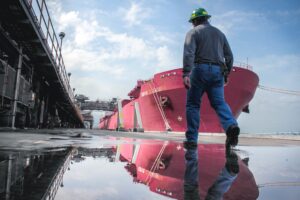 In July 1995, Drummond Ltd. made its first coal export, loading the mineral from Cesar at its maritime terminal in Cienaga to be taken to other countries. Since that time, the operation has continued to contribute to the development of Colombia, under high standards for quality and safety.
The company is currently one of the largest coal producers in Colombia, having led the market for the last four consecutive years, closing out 2019 with the production of 32.7 million tons.
To date this year, 178 ships have been loaded, exporting around 17.5 million tons to destinations in more than 24 countries. With this figure, that makes more than 489 million tons since the first export 25 years ago.
During this time, Drummond has implemented cutting-edge technology at its sites at the Pribbenow and El Descanso mines in Cesar, and at its port in Cienaga, Magdalena. Its recognition of human talent, bringing more than 5,100 employees and more than 4,000 contractors into its operation, and its environmental and social management strategies, have made Drummond a sustainable operation.