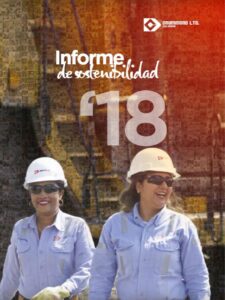 With a view to increasing and sharing its benefits with its stakeholders in the areas of influence through building and strengthening local capacities, Drummond Ltd. presents its 2018 Sustainability Report. In this version, the company gives an account of how its work is reflected in its contribution to meeting 10 of the Sustainable Development Goals (SDGs) promoted by the United Nations through the 2030 Agenda.
"Based on the pillars of our Corporate Social Responsibility strategy (Environmental Performance, Governance for Development, Peace and Human Rights, and Comprehensive Development), the company identified its contribution to meeting the SDGs in Colombia," said José Miguel Linares, President of the company. They include generating decent jobs and economic growth; high-quality education; sustainable cities and communities; responsible production and consumption; life on land ecosystems; as well as peace, justice and solid institutions."
In terms of economic development, at the end of 2018, Drummond had produced 30.8 million tons of coal and exported 31.5 million tons, which represented payments of royalties and compensation to the national government of USD $387.5 million and more than USD $236 million in taxes, fees and contributions.