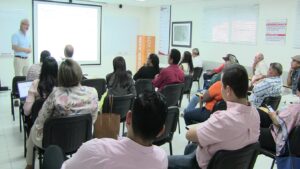 Drummond Ltd. opened up an arena in El Cesar and Magdalena to talk with representatives of communities located in the company's area of influence about the policy it has implemented for the promotion and respect of human rights.  The purpose of the meeting was to request feedback and identify opportunities for improvement.  The director of ARDURA S.A.S., Jose Unda, a human rights advisor joined Drummond Ltd. in the presentation.
The meeting, which took place first at the Pribbenow mine, was attended by councilpersons and municipal ombudsmen, as well as representatives of community action boards in the municipalities of El Paso (and the district of La Loma), Becerril, Codazzi and La Jagua de Ibirico.
A second meeting was then organized at Puerto Drummond with similar representation from districts such as Copey and Cordobita, Afro descendent communities, the Youth Committee, Asocomunal, and the municipal ombudsmen of Aracataca, Cienaga and Fundacion. In addition, the municipal games library, the office of the Secretary of Government of Cienaga, and the Presidents of the Community Action Boards in the neighborhoods Mar Caribe, Barrio Abajo, Ariza Celedon, Miramar, los Girasoles, La Floresta, Simon Bolívar and Nancy Polo all participated in the conversation.
The Agency for Reincorporation and Normalization (ARN in Spanish), with whom Drummond has partnered in social responsibility and reconciliation projects was present. Also at the meeting was the United Nations Office for Project Services, or UNOPS, the operator of the company's partnership with the government's Department of Social Prosperity, which provides housing solutions for vulnerable communities in its area of influence.