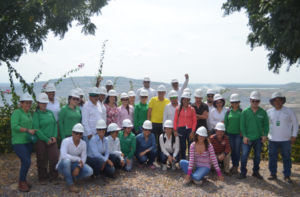 The Resettlement Technical Team, Corambiental and Socya – in charge of coordinating and operating the resettlement processes for the communities in El Hatillo in the municipality of El Paso and Boqueron in the municipality of La Jagua de Ibirico, Cesar – visited Drummond to assess the company's processes in regard to its responsible mining strategy.
The visitors confirmed that Drummond operations contribute to the sustainable development of the region in benefit of the communities in the area of influence. They also saw the processes used to mitigate the impacts of the mining. The Industrial Safety, Engineering, Environmental, and Community Relations Departments led the conversations.
After the meetings, the visitors toured the mining operation. From a lookout point near the pit, they watched the process used to extract and transport the coal.