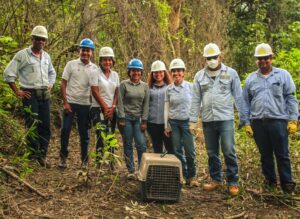 Drummond Ltd. has once again confirmed its commitment to protect and preserve the environment and to meet Sustainable Development Goal #15 Life on Land, through the release of a crab-eating fox-dog (Cerdocyon thous) at the El Descanso mine.
Benjamin Peña, a tank truck operator in the Road Area at Drummond Ltd., brought the animal voluntarily to the company's wildlife rescue unit, which is operated by Corpocesar and the George Dahl Hydrobiological Foundation.
"My daughter was given the animal at a farm in Curumani, Cesar, because the Fox is an orphan. I decided to give it to Drummond's Wildlife Rescue Unit because they have always given us environmental education at the company in the form of talks and courses. They have explained to us how important it is to conserve and take care of the environment, and especially wildlife," said Benjamin Peña.