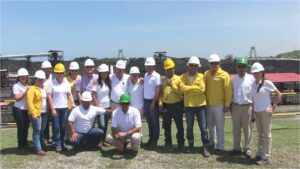 FENOCO S.A. is a Colombian company who responsible for the administration of the railway concession in northern Colombia and the improvement and maintenance of the rail transportation infrastructure that Drummond Ltd.'s trains travel from our mines (Pribbenow and El Descanso in Cesar) to Puerto Drummond in Ciénaga, Magdalena.
"I am tremendously grateful for [Drummond]'s invitation, and this visit certainly leaves us pleasant lessons. With this, I reaffirm the fact that you have been here from the beginning and that you have the historical memory of the mining processes that have been created to empower and train to carry out a responsible operation with quality," said the Socio-environmental Manager of FENOCO S.A., Miguel Ángel Santiesteban to Drummond.
As part of the strategy of reaching out to communities in the area of influence and the national authorities, Drummond Ltd. continues to strengthen its relations through guided visits, training talks and the socialization of its Environmental Management Plan as a result of its social and environmental commitment.