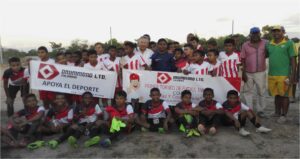 Drummond Ltd. visited the corregimiento of La Aurora in the municipality of Chiriguaná, Cesar, to provide an incentive to the champions and the runners-up of the "Peace and Coexistence" soccer tournament. Adelson Ochoa Peinado organized and participated as the technical director of the La Aurora team, which played a great final game against Sporting Chiriguaná FC on the afternoon of February 15.
Rafael García, Drummond Ltd.'s Coordinator of Community Relations and his support staff, watched the game with the players' parents. The players exhibited great potential and discipline for the sport during the game.
In the final game Sporting Chiriguaná triumphed over Deportivo La Aurora. Both teams showed their astuteness on the field and each team received a sports kit as a sign of recognition of their dedication.