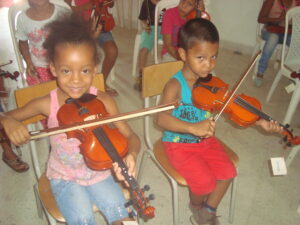 With the implementation of this musical education center operating in Becerril, 80 low-income children currently receive music classes free of charge.
Children have fun learning to play instruments like the violin during the first rehearsal at the Symphony Orchestra Center.
"We are more than grateful to Drummond for this contribution that will allow our children to learn to play a musical instrument, feel motivated and take advantage of their free time in a more productive way," said Idalides Cueva, president of the Parents' Association of the Filemón Quiroz School of Music in Becerril.
80 children from the municipality of Becerril are receiving training on string, wind and percussion instruments free of charge, thanks to the launch of the Symphony Orchestra Center in Becerril, a project led by the Foundation for the Support and Cultural Development of Becerril, the municipal Mayor's office and Drummond Ltd., which has donated musical instruments and uniforms on several occasions, in addition to the construction of the music area for rehearsals at the Filemón Quiroz School of Music in this municipality.