Cienaga, September 27, 2023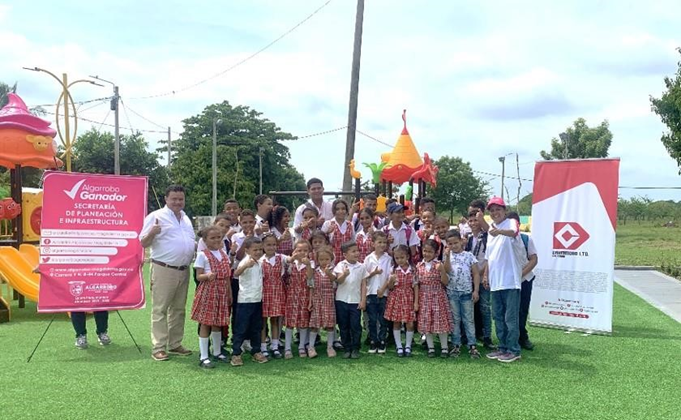 *Boys and girls of the township of Estación Lleras during the official presentation of one of the agro-tourism Project locations.
As part of its commitment to generate a positive impact and the wellbeing of its communities in its area of influence, Drummond Ltd. presented the 'Mariposario' park in the township of Estación Lleras in the municipality of Algarrobo, Magdalena.
This space, included in the Municipal Development Plan "Algarrobo Ganador", is part of the fifteen stations that the 'ETTE ENAKKA Agro-tourism Route' will have, with which, other than contributing to the improvement of the quality of life of all 'algarroberos', the goal is to promote and strengthen municipal rural tourism. "We are pleased to present this stage of the project Estación Lleras, a project that is contemplated in the development of the "Algarrobo Ganador" plan, and which we have called 'station 1'. We deliver this so that progress can continue within the plans that the current municipal administration has contemplated," said Álvaro Daza, Communities and Government Senior Supervisor for Magdalena.
On Drummond's part, the execution of this work included the delivery of materials for terrain preparation, two children's modules, a set of bio-healthy machines, supplies to manufacture benches, and general painting and the planting of suitable plant species throughout the park.
It should be noted that, with its contribution to the agro-tourism route, Drummond Ltd. also contributed to the 'Ciudadela Avicola' project developed at the end of 2021 in the same town of Algarrobo; facilitating the entry and entrepreneurship projects of 25 single mothers, with the adaptation and distribution of 3,000 laying hens in five sheds.
"This rural tourism project is truly a visionary project in which the township of Estación Lleras also benefits with two stations, the 'Mariposario' park station, and the 'Ciudadela Avicola'. In this case, Drummond has joined forces as a strategic partner to develop this ongoing commitment to rural tourism," highlighted Licet Belén Prieto Montejo, mayor of Algarrobo.
In this way, Drummond Ltd., from its social responsibility and aiming to fulfill the needs contemplated in the different municipal development plans, contributes by strengthening, and offering institutional and community capabilities to the communities near its area of influence.