As part of its commitment to strengthen the health sector in its areas of influence, Drummond Ltd. donated medical instruments and furnishings to the La Palmita Health Center, located in La Jagua de Ibirico, Cesar.
"As part of our corporate social responsibility strategy we contribute to the well-being and health of all the inhabitants of the municipalities in our area of influence. Drummond Ltd. continues to make history with these projects that will undoubtedly transform and help improve the quality of people's lives and, in this particular case, strengthen health care," stated Alberto Tolosa, community relations coordinator for Drummond Ltd. in Cesar.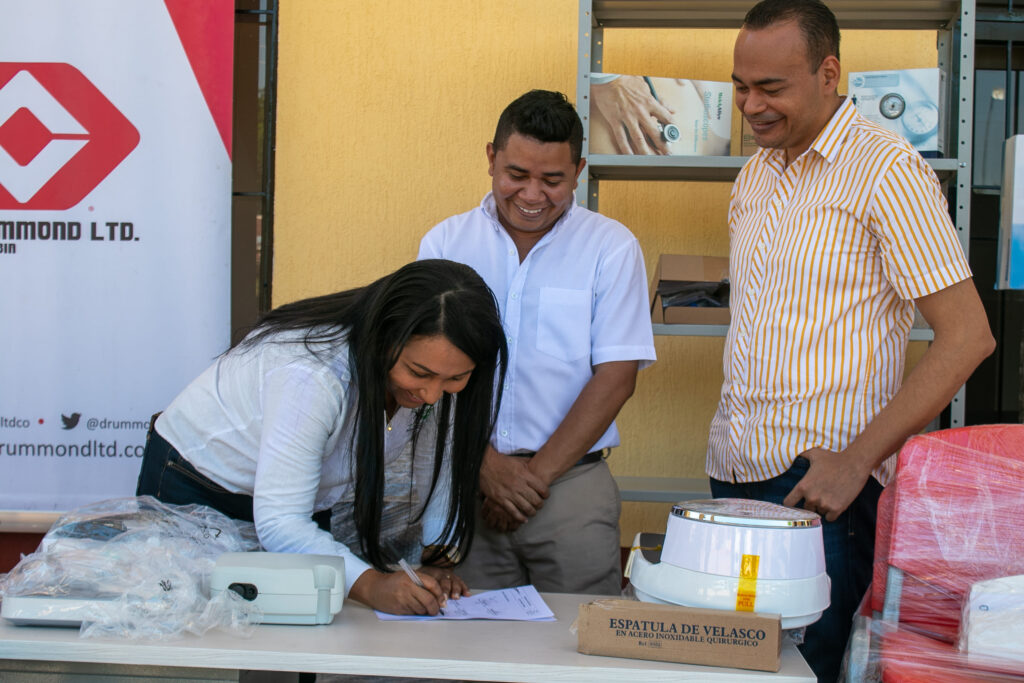 The donation included items such as a dental unit, curing light, digital scale, glucometer, compressor, vital signs monitors, wound care instruments, stretchers, electrocardiograph, stethoscopes, blood pressure monitors, wheelchairs, tandem seats, desks, and filing cabinets.
"I want to thank Drummond Ltd. for all of its investment projects in benefit of the community. It is important to continue improving healthcare. We are really grateful. First, it was an investment in infrastructure, and today this delivery is being made of hospital equipment, which is very necessary and timely. So now we, in turn, as administrators of this health post, will place it at the service of the community and make good use of it," expressed Yuri Arias, manager of the Jorge Isaac Rincon Torres Hospital, located in La Jagua de Ibirico.
Through an agreement between Drummond and the Office of the Mayor of La Jagua de Ibirico and the Jorge Isaac Rincon Torres Hospital, the project for the "improvement of the La Palmita Health Center" was officially inaugurated in March this year.
"We are so grateful for all the instruments the company Drummond donated to us. All of this will benefit the community; these are resources we were really needing. In the specific case of dentistry, the machines are of excellent quality, and we will therefore be able to provide excellent attention to all of our patients," highlighted Maria Claudia Ariza, nurse at the La Palmita Health Center.
Drummond Ltd. will thus, under its program for Institutional and Community Strengthening, continue to contribute to improving healthcare services for the community in La Palmita and nearby areas.