Cienaga – July 9, 2020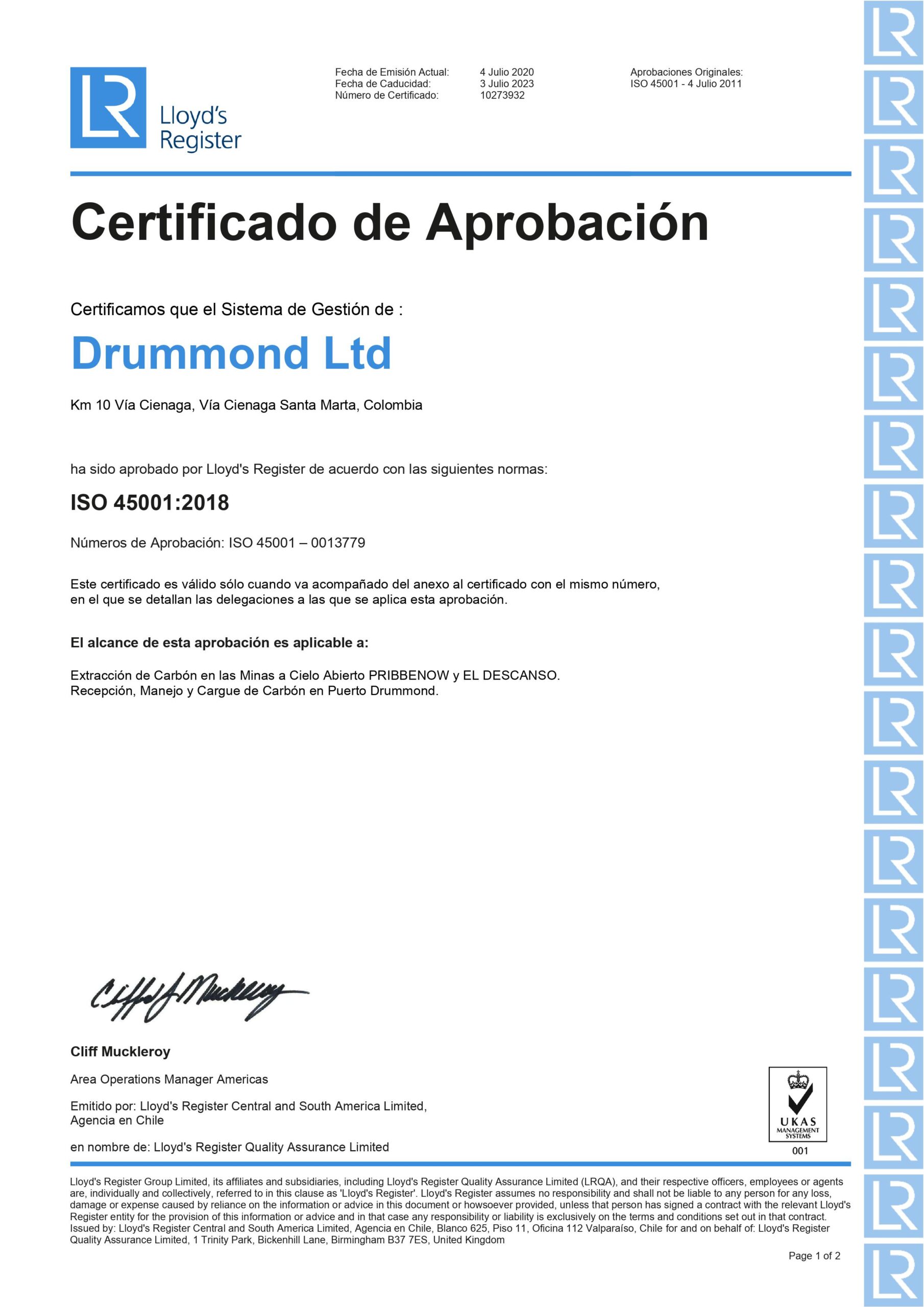 After the audit carried out during the second week of June of 2020 by Lloyd's Register, the auditing team validated that the company has all the requirements to carry out the transit from the OHSAS 18001: 2007 certification to the ISO 45001: 2018 standard.
The constant strengthening of safe actions is one of the purposes set out by Drummond Ltd., for the continuity and sustainability of its operations. This includes being permanently up to date in all norms that may arise, such as the new ISO 45001
With this new certification, which is internationally recognized as an Occupational Health & Safety standard, Drummond is focused on continuing to improve its Management Systems in terms of preventing risks within its operations, identifying them with greater clarity by adequately studying, handling , and controlling them to reduce or eliminate them, increasing the motivation and satisfaction of all employees. This is on top of aligning its current processes with the most notorious upper management leadership and with the business' strategic objectives.
"This achievement was possible with management's commitment, leadership, and involvement of all employees, and motivates us to continue aiming our efforts so that our operation continues being safe and healthy. To be aligned with an international standard such as ISO 45001 shows us, once more, that in terms of safety and health, Drummond Ltd., is world class.
Congratulations! As always, we count on your permanent involvement; we invite you to continue with this commitment and leadership to manage risks, and in this way ensure that all people who work in Drummond Ltd.'s operations can return safe and sound to their homes, which is what is most important for our organization," declared Oscar Vega, Industrial Safety Manager.
Drummond Ltd.'s commitment to safety and responsible mining will continue being promoted in each employee, elevating the concept of safety towards interdependence, responsible actions that increase the risk perception level in each one of its collaborators, and consolidating a culture of proactive safety to take care of themselves and others at all times.