Cienaga, December 9, 2020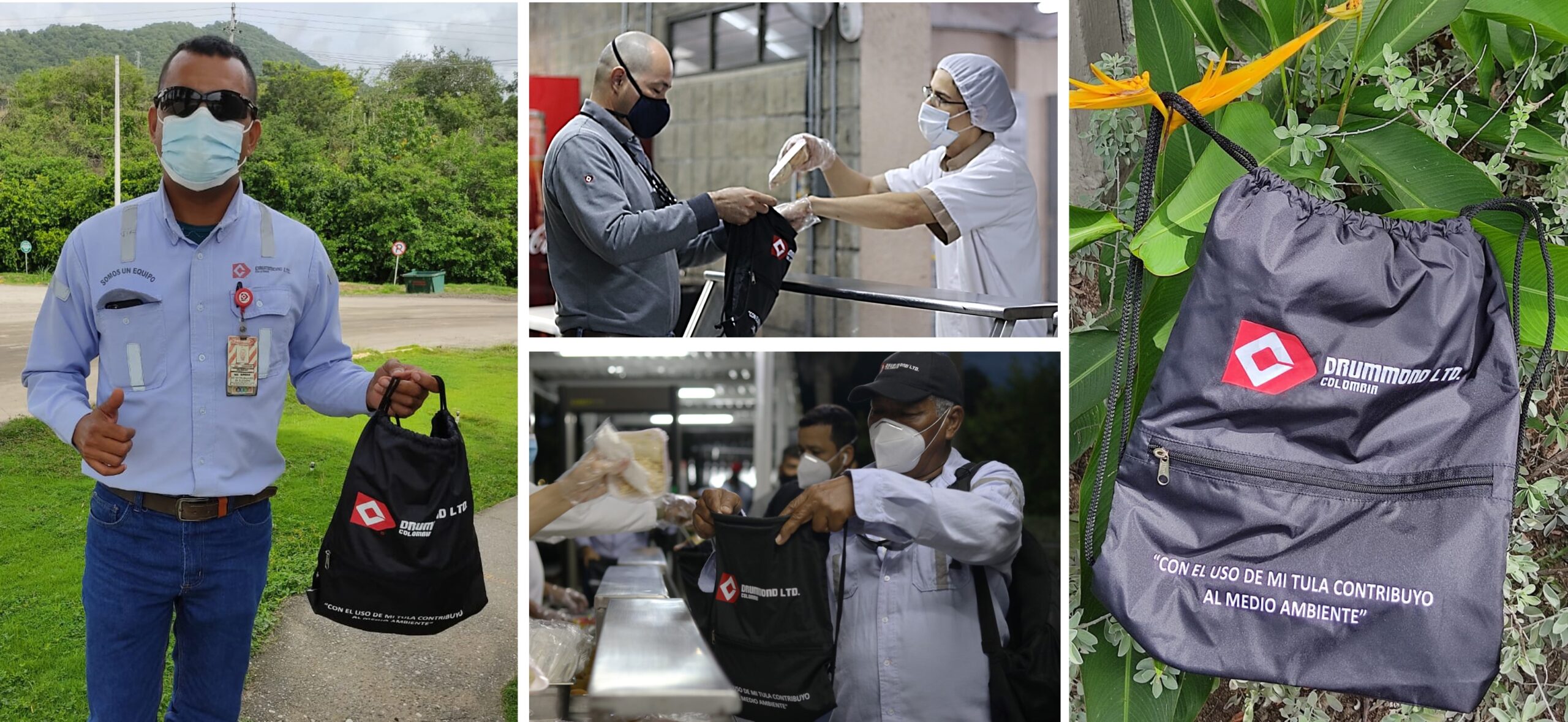 Re-usable lunch sacks make it possible for the company to reduce by 1 ton its use of plastic every year in its port operation. The waterproof cloth bags are an initiative by the Support Services Area in response to a suggestion by several employees for a way to take care of the environment.

Under its Sustainability Policy and in the framework of effective environmental management, since 2015 the Drummond port´s operation has been working to reduce the use of plastic and polystyrene foam. Now, thanks to the dedication of everyone involved in the initiative, yearly use of polystyrene foam packaging has been reduced by 3.8 tons and yearly use of plastic has been reduced by 4.8 tons.
The most recent initiative began on November 30 this year with the incorporation of re-usable lunch sacks. Workers use them to pack the carry-out meals that are provided for them each day in the morning and in the afternoon, during the operation's shift changes.
Ricardo Luna Hernandez, Director of the Support Services area, emphasized: The Company's commitment to the environment is continuous. In recent years, a series of positive changes has been made in meal, janitorial, and cafeteria services, like this one that took place at the end of November. This particular measure is quite significant, because using re-usable sacks helps us not use approximately 1 ton of plastic bags per year."


This not only reinforces responsible consumption by the company, but also raises employee awareness about taking care of, cleaning, and re-using their sacks, and stimulates personal commitment to reducing waste and protecting the environment. "Reducing the use of plastic is an environmental challenge around the world. Providing these lunch sacks is a very good strategy, because less plastic will be used and it's an opportunity for further environmental conservation. It's also very practical," emphasized company employee Carlos Alberto Foranis.
As part of the reduction strategy, biodegradable cardboard cups are now used in the dining rooms where employees eat on each shift (in the morning, at noon, and at night). The same change was made at the different coffee and water stations at Puerto Drummond. The new containers come with the message, "Change your chip; use and re-use your cup!" thus helping raise the environmental awareness of workers.
For packaged food services, Drummond Ltd. purchased a heat-sealing machine for cardboard cups. This means polystyrene foam and plastic juice bags and food packages can be replaced with heat-sealed cardboard containers.
"In the Support Services Area we will continue to look for opportunities for reducing the use of plastic and non-recyclable products in meal services," stated Ricardo Luna.